NelsonHall identifies Infosys as a leader for Cloud Infrastructure Migration and Management
NelsonHall has assessed and evaluated the capabilities of Infosys with regards to Cloud Infrastructure Migration and Management, and has identified Infosys as one of the overall leaders and a leader in the Advisory, Assessment and Migration focus market segment in their NEAT evaluation released in December 2016.
The report states "Infosys has already implemented toolsets to support both migration (CMS) and the ongoing management, orchestration and provisioning of cloud environments (IIMS Suite). We expect Infosys to continue to expand and mature the use of automation tools for cloud services. For example, in the up-front application assessment phase, and adding MANA (now part of Infosys Nia) into the ongoing management, orchestration and provisioning."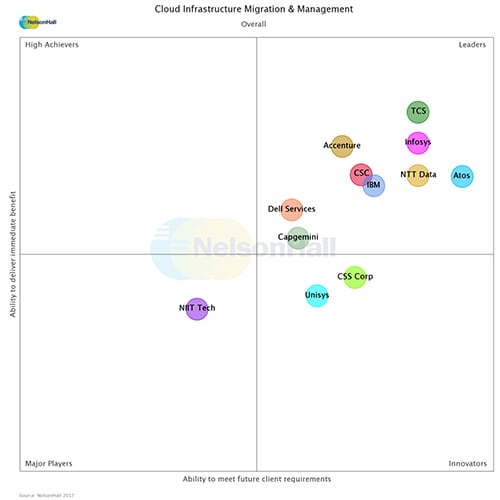 The evaluation highlights Infosys strengths with regards to:
The corporate-wide automation focus by Infosys is a natural fit for cloud services
The application experience by Infosys aligns to cloud migration skill requirements
Integration capabilities which increases value in a hybrid cloud environment
Existing proprietary toolsets for migration and cloud environment management
According to the report, the convergence of applications and infrastructure represented by cloud-based applications will give Infosys a greater opportunity to leverage our application experience, to grow into infrastructure management engagements. David McIntire, a Research Director at NelsonHall's IT Services practice, and author of the report, said, "By continuing to mature its cloud management capabilities, as well as growing its DevOps skilled workforce to complement its application capabilities, Infosys seeks to position itself as a client's partner for the ongoing management of its entire digital landscape."