Infosys Wins Express I.T. Awards for Infosys Infrastructure Management Solution Suite

The Cloud, Infrastructure and Security team of Infosys is delighted to win the Express I.T. Award for Large Enterprises for Infosys Infrastructure Management Solution (IMS) Suite. A comprehensive hybrid IT management platform, the Infosys IMS Suite helps enterprises design, build, run, and manage their IT infrastructure in an agile manner, with better integration using existing processes, and operate at optimum costs. The Express I.T. Award was won in the IT Innovation category.
The Infosys IMS Suite is built on years of experience offering IT Operations as a service while meeting customers' expectations regarding implementation costs and flexibility. The suite leverages open source technologies, which helps reduce the overall cost of implementation on the platform. In-built flexible integration framework allows the platform to seamlessly integrate with existing enterprise tools like ITSM software, infrastructure platforms, and identity management systems, thus harnessing existing IT investments while the enterprise leaps towards digital transformation.
The Express I.T. Awards is an initiative of Financial Express, an Indian English-language business newspaper. The Awards recognize fresh thinking that creates value, and honors companies at the cutting edge of technology innovation, as well as leading professionals across the IT/ITes industry.
Commenting on the award, Narsimha Rao (Narry), Executive Vice President and Head, Cloud & Infrastructure Solutions Service and Infosys Validation Solutions Service, said, "We are delighted to receive the Express I.T. Awards for Infosys IMS Suite. It is a wonderful feeling to be recognized for the innovation and thought-leadership that we bring to the industry and market. With the evolving nature of Hybrid IT landscapes and enterprises adopting cloud and extreme automation for IT Operations, the demand for unified hybrid IT management solutions is increasing. The Infosys IMS Suite is an Enterprise Centric, Business SLA aware, self-service hybrid IT management and autonomic operations platform. It enables seamless management and automated operations of enterprise workloads across business services, applications, and infrastructure landscape."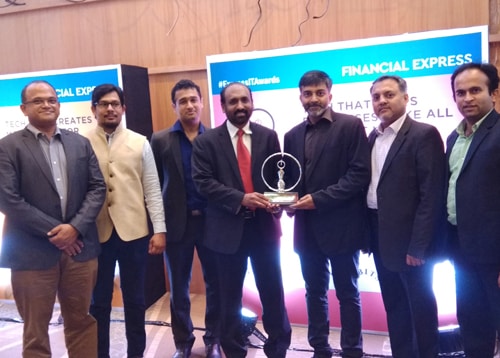 Infosys Infrastructure Management Solution (IMS) Suite offers enterprises the following:
Integrated, context-aware autonomic and self-learning operation model
Uberized marketplace style IT consumption model
Business KPI driven IT service delivery outcomes
Operations powered by Digital Natives – robots and humans
The Express I.T. Award was received by Abhijit Shroff, Associate Vice President, Senior Principal Technology Architect, CIS, Dheeshjith V.G. (Jith), Senior Vice President and Chief Information Officer, Infosys and team on behalf of Infosys on December 7, at a glittering event at The Marriott Whitefield, Bangalore.