NelsonHall Recognizes Infosys as a Leader in Cloud Infrastructure Brokerage, Orchestration & Management Services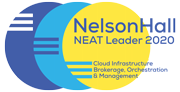 NelsonHall assessed and evaluated Infosys' offerings and capabilities in Cloud Infrastructure Brokerage, Orchestration & Management Services, and has identified Infosys as one of the overall leaders and a leader Cloud Brokerage Services when it is about the ability to meet future client requirements in its NEAT evaluation released in December 2020.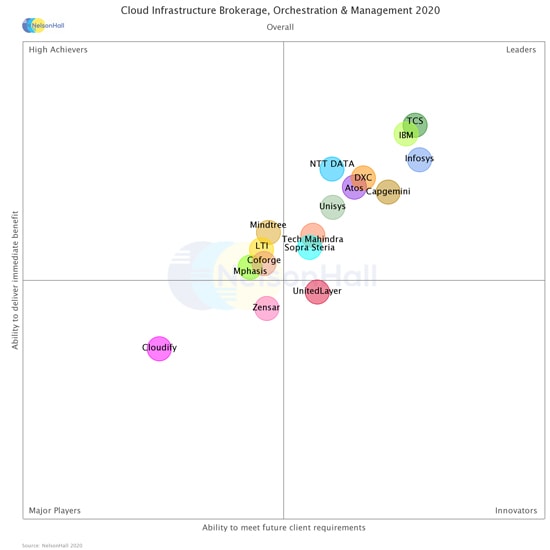 The report states that "Infosys provides cloud infrastructure brokerage, orchestration, and management services through Infosys Cobalt. This includes a set of IP (Polycloud Platform (upgraded version of IIMS), NIA, Edge Suite, Wingspan, and ESM Café), third-party services, solutions, and platforms to accelerate enterprises cloud journey. It also includes 14k cloud assets and 200 industry cloud solution blueprints."
The evaluation highlights Infosys strengths with regard to:
Significant IP (Polycloud Platform, NIA, Edge Suite, Wingspan, and ESM Café); and strategic investment in the cloud as a key focus area for Infosys
Infosys Cobalt Cloud Community and dedicated resources to curate assets
Cobalt Labs at its global digital centers to enable clients to rapidly prototype and co-create new cloud-first solutions
Cloud assets (14k) and 200 industry cloud solution blueprints
Comprehensive partner ecosystem in support of Polycloud Platform and automation framework
Partnerships with academic institutions to seed skilled workforce
Significant investment in the training of personnel.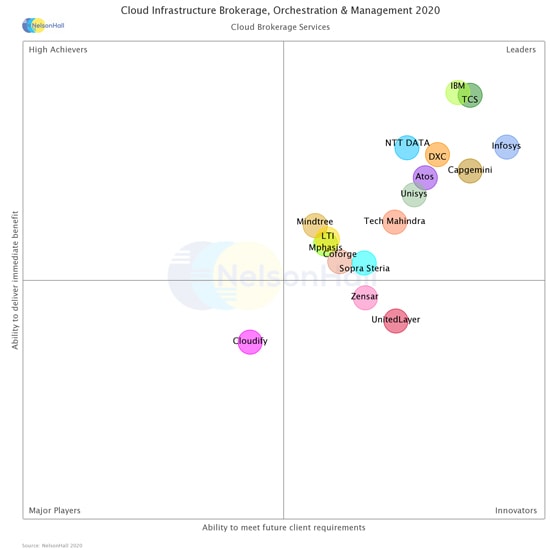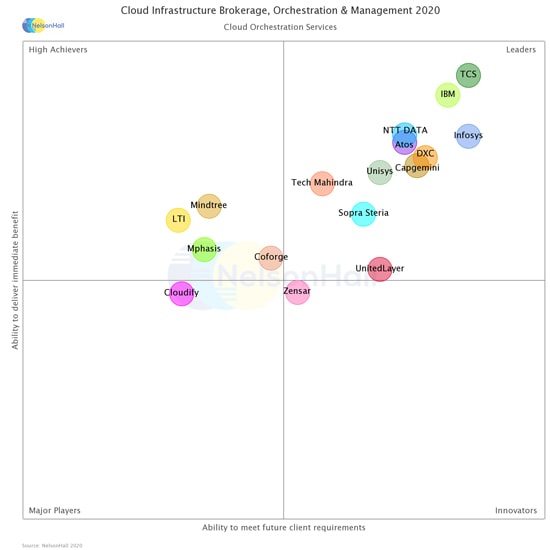 The report says that Infosys is focused on four key transformation levers, which includes:
Elevated end-user experience: how Infosys can improve service quality
Enhanced monitoring & visibility: capturing enterprise telemetry and being able to present in a way that will improve visibility and transferability within the enterprise, and mine data for future use
Self-healing ecosystems: constructs around deriving insights from the data and then using the insights to drive autonomous operations across the entire IT operations stack
Faster time to market: a context-aware, cloud-agnostic brokerage engine (for anywhere, anytime environments). Infosys has a generic blueprint for hybrid cloud orchestration, brokerage, and governance. It can de-couple from platforms itself and build at scale and speed an enterprise hybrid cloud management platform and brokerage capabilities across a multi-cloud landscape. The entire lifecycle of cloud resources is managed through a platform-first approach.
Infosys' Cobalt Cloud Community aims to help enterprises redesign from the core and build cloud-first capabilities across multi-cloud utilizing IaaS, PaaS, and SaaS. It has a catalog of 200 industry cloud-first blueprints curated from 14k cloud assets. Its Polycloud Platform supports multiple cloud services across IaaS, PaaS, and CaaS. Infosys is further driving an SRE enabled approach as the default to manage end-to-end cloud services in a highly automated way through Polycloud.
- John Laherty Senior Research Analyst, NelsonHall