The Infosys- Apptio Partnership
The global partnership between Infosys and Apptio provides customers with applications and services to gain a holistic understanding of their IT investment and to adopt business management practices in technology that give them the power to find cost savings areas, enhance planning and forecasting, and optimize their spending through on-premise and cloud-based investments. Apptio platforms provide Infosys products and services with an IT financial management engine.
Our collaboration offers a range of products and solutions that foster innovation and accelerate the digital transformation of the IT Operating Model.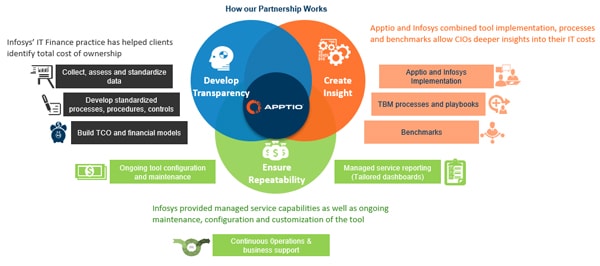 Our joint offerings give customers financial trust that their current and future IT investments are consistent with the business plan and priorities for operational excellence. Offerings cover on-site and cloud spending and more significantly strengthen the management of digital transformation with a better view of spending as customers increase their cloud investment.
Solutions and offerings to accelerate innovation
Multi- cloud financial management - Infosys Polycloud platform offers an integrated cloud technology and financial management approach to speed up cloud adoption without surprises - customers can have a unified view of cloud costs in tandem with the right cloud platform management services for a more detailed and in-depth understanding of their spending. Customers can better prepare and track their digital transformation and migration to the cloud with an extended view of leveraging Apptio's portfolio.
Cloudability for Multi-cloud - Enables organizations to work together to bring financial accountability to cloud, enabling IT, finance, and DevOps teams to tune cloud deployments for speed, cost, and quality.
Infrastructure Optimization - Data center, private and public cloud, and hybrid environments in one single pane of glass to make the right migration decision.
IT Cost Reduction - Clients can recognize and remove sources of waste, under-use, or low business value within the IT budget by using the Apptio platform with Infosys services.
Application Portfolio Management and Optimization - Rationalize the App Portfolio and optimize application workloads; develop and manage Application TCO model.
Plan, Track, and Forecast Investments for Agile Delivery - For companies using agile methodologies, Apptio Agile Investment Management offers a specific mix of financial and implementation analytics to assess value delivery, quality cost and labor utilization.
Click here to know more about Apptio