Mendix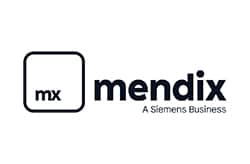 Mendix, a Siemens business, is quickly becoming the engine of the enterprise digital landscape. Its high productivity, low-code platform and comprehensive ecosystem integrates the most advanced technologies for the development of new and improved mobile and web applications at scale. The platform is designed to accelerate enterprise app delivery across the entire application development lifecycle, from ideation to deployment and operations.
The platform, built on the pillars of abstraction, automation, cloud, and collaboration, enables you to implement Agile and DevOps best practices. Additionally, it involves business stakeholders in the actual development of applications. It offers both no-code and low-code tooling in a single integrated platform. The platform's cloud-native architecture and automation tools support deploying, managing, and monitoring highly available enterprise-grade applications.
Key features of Mendix low-code/no-code platform:
We help clients supercharge the speed of application development with Mendix through
Visual and AI-assisted development tools to build full-stack apps
Pre-built app templates, UI patterns, and widgets
Pre-built connectors and plugins for easy integrations with internal and external systems
Build default cloud-native applications
One-click deployment
Cross-platform, multi-channel experience
Security and governance
Business and IT collaboration with robust built-in tools
Single integrated development environment (IDE) to support both citizen and experienced developers
For more information, visit the Mendix website: https://www.mendix.com/
About Infosys and Mendix Partnership
Since 2018, Infosys has been in partnership with Mendix, the number one low-code platform for rapid application development. This partnership helps clients across industries with the digital transformation of their ecosystem, modernize existing applications, cloud-enable legacy applications and build new applications much faster to meet the market needs.
Our proven enablement framework and low-code/no-code center of excellence (CoE) help our clients:
Scale teams with effective training and cross-skilling of developers and non-technical individuals alike.
Our full-stack developers can help create superior user experiences through cloud-native, multi-channel, secure and scalable applications on Mendix.
Our set of accelerators, such as assessment framework, governance framework, starter kits, and CoE dashboard, in conjunction with Mendix capabilities, help customers adopt low code/ no code in a structured way.
We work together to deliver solutions, meeting the demands of every business domain, be it BFSI, manufacturing, retail, or healthcare. By capitalizing on the power of the Mendix platform to rapidly develop applications for all channels (mobile, web) and Infosys' digital and domain expertise, enterprises can deliver end-to-end applications supporting rich customer experience, business logic and workflows 3-6x times faster than traditional methods, while also supporting one-click deployment on any cloud platform.
Infosys and Mendix drive a cloud-powered digital transformation journey and ensure that enterprises meet their business and IT goals.
For further information on domain capabilities, uses cases, and our offerings, please click the link below:
https://www.infosys.com/services/application-modernization/offerings/low-code-no-code.html
Key Benefits of Partnership
With our trusted relationship with Mendix, we provide accelerated expert support.
Our dedicated Mendix CoE setup allows clients access to SMEs on Mendix, experienced practitioners, and domain experts to accelerate their transformation.
Through our collaboration, clients can access the dedicated playground for PoCs and demos.
Our partnership covers multiple geos (Americas, Europe, and APAC), enabling us to run a managed services model effectively and efficiently.
Key Offerings
Consulting services to help with platform comparisons, assessment, creation of PoCs, recommendation of the right fit platform, low-code architecture blueprinting and opportunity roadmap creation.
Platform advisory services to establish a Mendix CoE, define governance models, set up best practices, identify reusable assets and their implementation, enforce guard rails, and provide gating criteria for applications to be moved to/created on the Mendix platform.
Implementation services include solutions for legacy modernization, process digitization, enterprise process and workflow automation, field service mobile applications supporting offline and sync features, end user portal creation, Salesforce app migration to Mendix, dashboards, etc. We provide end-to-end execution for all the offerings and solutions from design to development to deployment.
Validation services to take care of all testing needs for Mendix applications and automate unit and system testing by integrating with components from Mendix or external tools.
Post implementation services to support and maintain Mendix applications, version upgrades and minor enhancements.