MetricStream
Financial Service organizations continue to face a plethora of risk-related challenges. Awareness of the key risks facing an organization and how to manage them, has been a challenge for many Financial Institutions, which is impossible without knowing what they are. How can the crisis be avoided? How does the crisis impact the organization? How do we implement this and what is the step-by-step process?
Financial institutions will need to make sure risk management is an active participant in setting strategy, an effective program to create a risk-aware culture and manage conduct risk in place, and that the risk management responsibility is clearly defined across all three lines of defense.
The partnership between Infosys and MetricStream provides customers with a unified risk management approach combining elements such as governance, regulations, and compliance with customers, employees, and investors. Infosys is a strategic implementation and license re-sell partner for MetricStream since 2015, jointly helping clients in their GRC Digital Transformation journey.
About the Partnership
Infosys and MetricStream have a unique 360o partnership whereby Infosys is not only an implementation partner but also a customer having implemented MetricStream for its own GRC requirements.
Rich experience and tried and tested approach to Operational Resilience transformation
Industry-leading MetricStream platform – powered by Infosys's digital toolkit & Industry-leading data integration strategy
Infosys's Core team of experienced Third-party Risk professionals - Technology, Consulting, and Operations
Digital technology powered pre-made accelerators for timely and successful implementation using Infosys's proven Digital capabilities
Tailored out-of-box or customized approach combining our consulting, technology, and business operations skills
Key Benefits
Infosys Centre of Excellence (CoE) for MetricStream
Workforce
120+ MSI world wide GRC Consultants
1800+ Enterprise Technology architects and engineers
Global GRC implementation
Over 10+ successful Global GRC implementations in previous 2 years
Experience with GRC suite and product agnostic business knowledge.
Certified Consultants
Fungible pool of FRM, CFA Charter holders, CISSP, CISM etc.
MetricStream University Certified v6 & M7 Consultants
Apps and Platforms
PL-SQL, ETL, Java, .Net, Apache Spark, Hadoop, Tableau, MicroStrategy
MetricStream Apps and platforms (App Studio)
Accomplishment
95% of GRC projects completed on time
Zero defects in 20+ MSI GRC Use Cases implemented world-wide
Library of Tools/Accelerators for data mapping, regression testing and data migration

Key Offerings
Value added services around MetricStream
Infosys-MetricStream GRC as a Service (GRCaaS)
Accelerating the digital transformation of governance, risk and compliance (GRC) with Infosys MetricStream GRC as a service offering (GRCaaS). Infosys's GRC as a service is a unique proposition to give customers a head-start in there GRC adoption and expansion journey. This digital co-offering from Infosys and MetricStream is a subscription model to provide risk & compliance oversight for the enterprise, allows clients to leverage the benefits of a GRC Platform and navigate through the strictest & complex regulations. By deploying this cloud based GRC solution - customers will gain on costs, data volumes, monitoring & maintenance. Infosys with its deep expertise in cloud across all services providers will enable GRC solutions to accelerate the migration process, mitigate cloud computing risks and help enhance data security measures.
Infosys-MetricStream GRC Digital Suite
Infosys launched MetricStream GRC Digital Suite as a unique proposition to promote and enhance client implementations of GRC solutions. The Digital Suite augments the MetricStream product core competencies using cutting edge technology and digital themes. The plug and play suite is powered by Artificial Intelligence (AI) and Machine Learning (ML) and serves as a robust platform to amplify and further strengthen client implementations of MetricStream solutions. The suite consists of the below solutions:
Infosys NLP based Lex Chatbot provides a convenient platform which enables first line users to report, track incidents and ask queries about the functions and business processes of GRC.
Infosys RPA powered bots are an efficient solution to ensure 100% of controls are tested. These RPA based bots enable testing of all controls within no time, share evidence and update testing reports.
RADAR Dashboard shows CXO's and risk managers a consolidated enterprise wide view of key risk indicators empowering them to take informed decisions, at the right time.
Infosys-MetricStream Third-Party Risk Management Solution
Third-party risk is taking on to be a hot topic of conversation in boardrooms as there is an increase in operational risk, regulatory scrutiny, reputational impact, and strategic risk.
Our TPR solution is aligned with the Vendor management lifecycle and ensures precise risk evaluation at each stage.
One-time activity
---
Vendor Selection
Vendors would be evaluated for different risk types to ensure strategic alignment between Vendors and business objectives.
Concentration Risk
Sustainability risk
Business Continuity Risk
Regulatory compliance review
Country Risk
One-time activity
---
Vendor On-boarding
Third-party Vendors will be evaluated for different risk types for ensuring timely and smooth on-boarding.
Compliance - AML
ABAC, PEP
Financial Risk
Regulatory compliance review
Documentations
SOC-1, SOC-2
Information security
Periodic activity
---
Vendor Monitoring and Performance Review
All the key Vendors would be monitored continuously for enabling quick response from the business in case of any event.
AML, ABAC
Financial performance
Contractual risk
Compliance & litigation
Market dynamics and risk impact
Internal risks (SLAs/KPIs)
Sustainability risk
Business continuity risk
One-time activity
---
Vendor Off-boarding
Vendors would be monitored closely at the time of termination of contract to avoid any data security breach.
Exit strategy
Information security risk
Infosys-MetricStream ESG Reporting solution
ESG reporting has now become an integral part of the annual reporting process, and it's no longer an option for the organization not to publish ESG disclosures. Investors, customers and partners are actively looking into the organizations ESG elements and its sustainability priorities, transparency etc. Constantly evolving ESG frameworks and reporting requirements by regulators such as recent SEC proposals on Climate-Related disclosures for investors or independent standards organizations such as TCFD or ISSBs disclosure recommendations across geographies becoming a challenge for organizations. Infosys Metricstream ESG reporting solution ensures that organizations are quickly complaint with the key ESG reporting guidelines and regulations.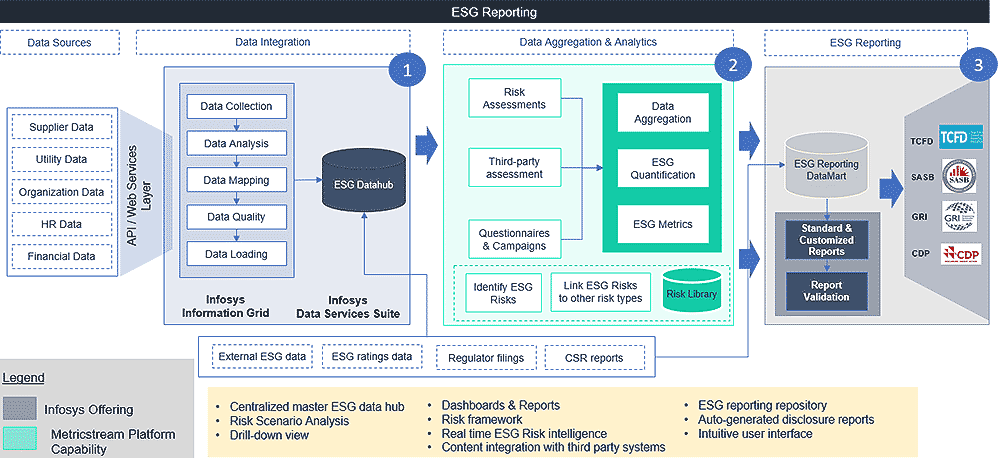 About MetricStream

MetricStream is the global market leader in Integrated Risk Management and GRC empowering organizations to accelerate growth with risk-aware decisions. The MetricStream Platform and solutions provide quantifiable risk insights powered by deep domain expertise, embedded content, collaboration, integrated data, analytics, and AI. We connect governance, risk management, and compliance across the extended enterprise with business objectives, enabling our customers to thrive on risk. It has been positioned as a "Leader" in the 2021 Gartner® Magic Quadrant™ for IT Vendor Risk Management Tools, sixth time in a row, as a "Strong Performer in the Forrester Research Governance, Risk, And Compliance Platforms, Q3 2021. MetricStream has also been recognized as a leader in 2021 Magic Quadrant for IT Risk Management for the second consecutive time.