MetricStream

MetricStream is the global market leader in Integrated Risk Management and GRC empowering organizations to accelerate growth with risk-aware decisions. The MetricStream Platform and solutions provide quantifiable risk insights powered by deep domain expertise, embedded content, collaboration, integrated data, analytics, and AI. We connect governance, risk management, and compliance across the extended enterprise with business objectives, enabling our customers to thrive on risk. It has been positioned as a "Leader" in the 2021 Gartner® Magic Quadrant™ for IT Vendor Risk Management Tools, sixth time in a row, as a "Strong Performer in the Forrester Research Governance, Risk, And Compliance Platforms, Q3 2021. MetricStream has also been recognized as a leader in 2021 Magic Quadrant for IT Risk Management for the second consecutive time.
Infosys is a strategic implementation and license re-sell partner for MetricStream since 2015, jointly helping clients in their GRC Digital Transformation journey.
Infosys and MetricStream have a unique 360o partnership whereby Infosys is not only an implementation partner but also a customer having implemented MetricStream for its own GRC requirements.
Infosys Centre of Excellence (CoE) for MetricStream
Infosys has deep expertise in MetricStream platform including end to end deployment, upgrade, configuration, data migration, validation and support. Infosys has a dedicated MetricStream CoE with 500+ SME's having Risk and (or) MetricStream skills.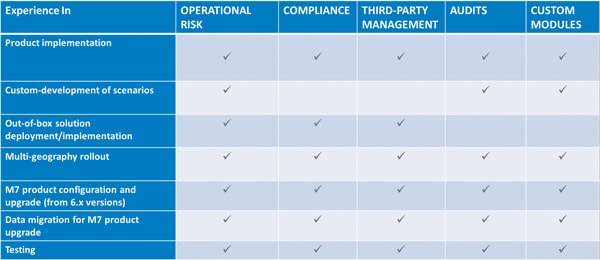 Why Infosys and MetricStream?
The partnership between Infosys and MetricStream provides customers with a unified risk management approach combining elements such as governance, regulations, compliance customers, employees and investors. It enables customers to leverage Infosys's proven Integrated Enterprise Risk Management Framework along with the best in class technology solutions from MetricStream.
Value added services around MetricStream
Infosys-MetricStream GRC as a Service (GRCaaS)
Accelerating the digital transformation of governance, risk and compliance (GRC) with Infosys MetricStream GRC as a service offering (GRCaaS)
Infosys's GRC as a service is a unique proposition to give customers a head-start in there GRC adoption and expansion journey. This digital co-offering from Infosys and MetricStream is a subscription model to provide risk & compliance oversight for the enterprise, allows clients to leverage the benefits of a GRC Platform and navigate through the strictest & complex regulations. By deploying this cloud based GRC solution - customers will gain on costs, data volumes, monitoring & maintenance. Infosys with its deep expertise in cloud across all services providers will enable GRC solutions to accelerate the migration process, mitigate cloud computing risks and help enhance data security measures.
Infosys-MetricStream GRC Digital Suite
Infosys launched MetricStream GRC Digital Suite as a unique proposition to promote and enhance client implementations of GRC solutions. The Digital Suite augments the MetricStream product core competencies using cutting edge technology and digital themes. The plug and play suite is powered by Artificial Intelligence (AI) and Machine Learning (ML) and serves as a robust platform to amplify and further strengthen client implementations of MetricStream solutions. The suite consists of the below solutions:
Infosys NLP based Lex Chatbot provides a convenient platform which enables first line users to report, track incidents and ask queries about the functions and business processes of GRC.
Infosys RPA powered bots are an efficient solution to ensure 100% of controls are tested. These RPA based bots enable testing of all controls within no time, share evidence and update testing reports.
RADAR Dashboard shows CXO's and risk managers a consolidated enterprise wide view of key risk indicators empowering them to take informed decisions, at the right time. The entire dashboard is powered by next generation technology to provide intuitive visualizations, navigations and data analytics.
Press note and coverage of the alliance
Infosys Launches Infosys GRC Digital Suite for MetricStream
Infosys - MetricStream GRC Digital Suite Flyer
Third-Party Risks Are on the Rise: How Can You Protect Your Financial Services Enterprise?