Infosys wins first-ever RMMY award for customer relationship management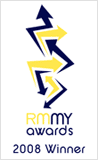 Infosys received the 'Best In Show - Best Overall Relationship Management Capabilities' award at the Outsourcing Institute and Vantage Partners' inaugural RMMY awards in New York City. The award recognizes Infosys for having the best customer relationship management framework covering areas such as provisioning, governance, transition, change, and performance management, amongst others.
A systematic and structured approach to governing relationship management processes with clients and a layered account structure with well-defined roles and responsibilities were the factors that set Infosys apart from competition.
Download the media alert