Make energy while the sun shines
How we made our Hyderabad campus 100% solar – powered

The energy sector is critical in the light of the burgeoning population of the world and exponential increase in energy demands. India is dependent on crude oil imports – about $125 billion annually – to meet its energy needs, even as close to 300 million Indians live without electricity.
In today's context, moving up in the energy ladder and achieving energy security necessitate using low-carbon and clean energy options like solar energy. The Indian government has revised its commitment to scale up solar energy from 20GW to 175GW — to be achieved by 2022.
– Source: Ministry of New & Renewable energy
Being the first Indian company to join RE100, a global platform for major organizations committed to 100% renewable power, Infosys is leading the way in contributing to the country's solar energy target.

Spread over 450 acres, our Hyderabad campus is India's first fully solar-powered corporate campus.
Leading from the front
On our renewables journey, our initial experimentation began with our first solar installation at the Jaipur campus. Through continued research and experiments, we evaluated several technologies at subsequent installations and at our live-lab at the Bangalore campus. Armed with valuable learnings and confident of achieving our goal of sourcing 100% of our electricity from renewables, we installed a 6.6 MW solar photo-voltaic (PV) plant at our Pocharam campus in Hyderabad. This state-of-the-art installation is capable of generating 12 million units (kWh) annually and has helped to completely offset our electricity consumption at Hyderabad campus, and is in fact running at a surplus. Today, Infosys is a forerunner among corporates to adopt solar energy as one of its key renewable energy sources.
Off the grid is a great place to be
While a plant of similar capacity as our Hyderabad solar plant would typically generate 4,300-4,800 units per MW per day, we have realized an unprecedented generation of 5,000-6,000 units per MW per day through an innovation that is the first-of-its kind in the solar PV industry. Our solar PV plant has an innovative design that uses two PV technologies – Polycrystalline silicon and Copper Indium Selenide (CIS) thin film. One of the unique aspects of the design is that these technologies are installed using two different types of installation – fixed tilt and single axis tracker based system.
In the fixed tilt system, all the solar modules face southwards at a common angle to ensure that the maximum number of sunny days is utilized to generate energy. In the single axis tracker system, the solar modules face the sun directly throughout the day from east to west. A 100% self-powered tracker moves along the sun's movement the entire day. Since the climatic conditions at Hyderabad combines both clear sky days and cloudy days, our PV technologies make the best use of the climate, thereby increasing the energy yield. Additionally, we have created high-accuracy weather stations that help us verify actual radiation and actual generation to ensure that the solar PV plant functions at its highest efficiency levels.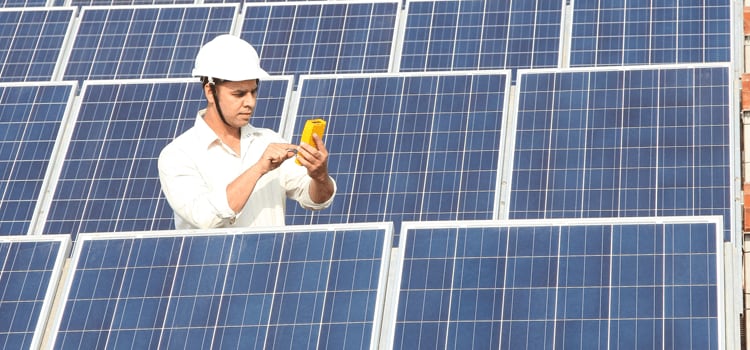 Solar PV farm at Hyderabad campus
Making a difference
Eliminated 9,000 tons of carbon emissions annually at our Hyderabad campus alone.
A total of 15 MW of solar installed capacity across all campuses as of March 31, 2016.
And the journey continues
With an aggressive goal to becoming 100% renewable energy-powered by 2018, we are planning to invest in over 170 MW of solar plant capacity across our campuses by March, 2018.