Infosys Australia sponsors Gala Dinner at Australia India Joint Business Council Summit
May 2008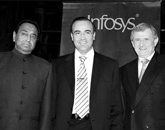 The Australia India Joint Business Council Summit was held at the Melbourne Town Hall on Tuesday, May 20, 2008.
Infosys was a major sponsor of the Gala Dinner, which was attended by 300 guests. There was a large representation of local industries and the Indian business community.
Infosys Australia CEO, Gary Ebeyan spoke about Infosys and its 'Flat World' vision. Other keynote speakers included Kamal Nath, India's Minister for Commerce and Simon Crean, Minister of Trade for Australia .
The Joint Business Council is the premier forum for Australian and Indian businesses to discuss trade and investment opportunities.