Event Overview
Even as most organizations come to terms with the COVID-19 pandemic, another potential disruption lurks within for many. There are companies that continue to operate with older and even unsupported versions of Oracle E-Business Suite, with serious risks to business. For those on EBS version 12.1, support ends next year — with options to either transform with SaaS, re-platform through OCI, or modernize. While the choices are clear, they are not easy.
Infosys, Oracle, and Panaya have come together to host a webinar on this critical issue with experts discussing various scenarios and pointing the way forward. Also hear from our client, Sanjay Agrawal, VP, Avery Dennison, on how they transformed their E-Business Suite successfully with Infosys. In addition to the insights, you can also win a free assessment of your current and future state of your EBS with a roadmap to successful modernization and transformation.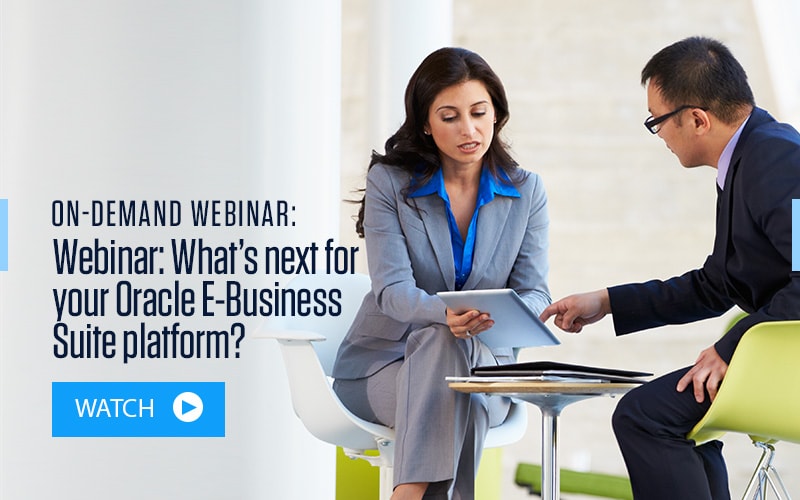 Speakers

Andrew Harvey - Head of the Oracle Practice Europe, Infosys
Andrew leads the large and long-established Oracle Practice for Infosys in Europe, having previously worked at Oracle for over 10 years. Not only does Andrew and his team understand the significant advantages of the latest developments from Oracle in the world of ERP, they also understand how to move clients to Cloud, Cloud at Customer, and also manage the options of staying on-premise but still avoiding the risks that older versions present.
Because of the nature of his senior role in Infosys and his tenure at Oracle he has great connects into the commercial, operational, and delivery parts of both companies. This helps unravel some of the most challenging ERP conundrums that arise when discussing what to do with E-Business application estates.
You may also know that Andrew loves to sing. But don't worry, there won't be any of that on the webinar!

Zoharit Ben Zvi - Director of Sales & Presales, EMEA, Panaya
Zoe leads the EMEA solution consultants at Panaya. She brings over 15 years of experience in helping organizations with reducing the risk and the cost of changes to their Oracle E-Business Suite, such as upgrades, new implementations, and more. Prior to Panaya, Zoe managed business application groups and led ERP and CRM implementations.

Paul McCartan - Oracle, Vice President, EMEA Applications License Sales
Paul is the Vice President of EMEA Applications License Sales Team, within Oracle's sales organization. He is responsible for engaging customers and partners to help them maximize their investment on E-Business Suite, PeopleSoft, JD Edwards, Hyperion, and Siebel.
Paul has built a team of trusted advisors to support Oracle EMEA's thousands of loyal applications customers — interacting with HR Directors, Supply Chain Experts, Finance Directors, Heads of IT, and Sales VP to learn what's important to them.
As Paul says, "Helping customers find new solutions to business issues, driving down cost of IT while innovating gives me a great thrill."

Sanjay Agrawal - Vice President, Information Technology, Avery Dennison
Sanjay is the Vice President, Information Technology, Retail Branding and Information Solutions (RBIS) for Avery Dennison Corporation. Appointed to this role in August 2019, Sanjay is shaping and delivering an enterprise-wide technology strategy by bringing together various stakeholders to drive the execution of technology-enabled programs, forging tangible business benefits.
With over two decades of experience in business and digital transformation, and having served in senior leadership roles at organizations in technology-driven manufacturing and life sciences, this chemical engineer has worked across the globe and nurtured his vision to spearhead technology as an enabling partner, driving business revenues, product innovation, and integrations.