Location: Virtual
Date: Thursday, March 11, 2021
Duration: 60 minutes
Watch On demand
Event Overview
Artificial intelligence adoption is at an interesting juncture – as it graduates from consumer AI, towards enterprise grade AI. This shift also marks the second inflection point for AI. As AI re-shapes businesses, delivers perceptive experiences and guides decisions, companies around the world are starting to realize that value from AI can bring them the competitive advantage.
However, most organizations, especially the traditional ones, are challenged with integrating AI with their core, lack strategies and tools to enable enterprise-wide adoption, and are unable to generate value from AI at scale. There are also data challenges. What organizations need is a comprehensive approach and a defined roadmap.
Join us for this virtual event as we discuss how organizations can future-proof and efficiently scale AI investments enterprise-wide, while managing and minimizing the risks.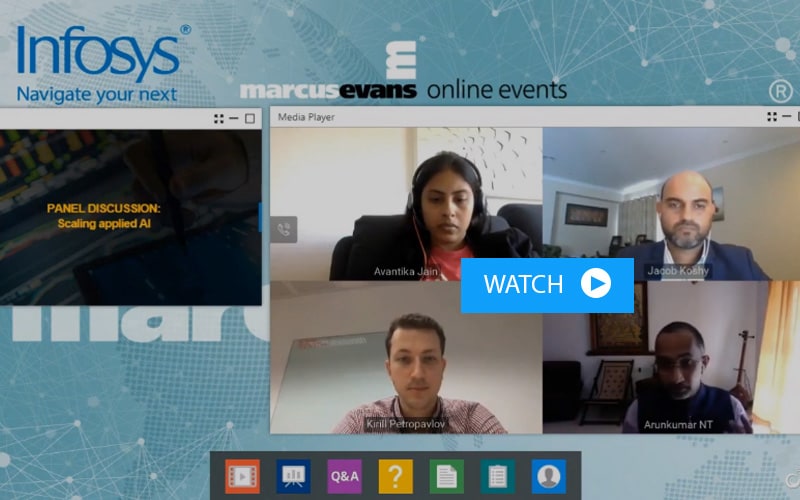 Key Takeaways
Discover value and ready-to-deploy AI solutions across the value chain
How to "future-proof" and efficiently scale AI enterprise-wide
Managing the reputational and performance risks associated with AI adoption
Speakers

Kirill Petropavlov, Vice President - Technology, Data & Innovation, Deutsche Bank, Singapore
Kirill Petropavlov is an experienced innovator at the cross section of Financial Services and advanced technologies in Artificial Intelligence and Blockchain. He has led and delivered key innovation projects in Open Banking, Blockchain for payments, Machine Learning powered digital automation and AI Driven data analytics for financial institutions and technology companies.
He is currently the VP of Technology, Innovation and Data at Deutsche Bank in Singapore. Previously he was the AI Director in Bank of Singapore, Asia's top global private bank, advising the bank's innovation initiatives. Kirill is also a key committee member on advising Singapore's AI guidelines for the financial service industry.
Kirill is also an Innovation Keynote speaker, he was panelist for World AI, ASEAN Digital Disruption Summit and Adobe, where he shared thought leadership in AI Innovation in the Financial Services.

Avantika Jain, Regional GM, Demand Fave
Avantika is an experienced leader with a demonstrated history of working in the internet industry. Skilled in Analytics, Strategy & Business Development. She is a former McKinsey & Co consultant, graduated from INSEAD Business School and is passionate about helping tech companies scale up in high growth environments.

N.T. Arunkumar, Country Managing Director (India) & Head of Innovation, Global Business Services, Telstra
N.T. Arunkumar is both a proven technocrat and a successful business leader. In over 25 years of global leadership experience, he has run large, complex operations, developed enterprise digital strategy and transformed it into reality through execution excellence. Arun's experience ranges across functions (Operations, P&L, Technology/Digital, analytics, supply-chain & sourcing) in different business models, and a significant portion in global banking and financial services. He has delivered exceedingly high customer and shareholder value across geographies and has deep expertise in technology-enabled product development and shared services Offshoring & Outsourcing, specifically in Asia (India, China).
Presently, Arun is the MD for Telstra India and leads Telstra GBS' Innovation function. In this role, Arun oversees development of and delivery from Telstra's Innovation & Capability Center in India, helping Telstra's business transformation to a digital, agile and innovative technology-led solutions company for its customers.
Arun holds an Honors Post Graduate Diploma (MBA) from XLRI, Jamshedpur, after graduating as a topper in Math & Statistics. He is currently pursuing his PhD, researching and developing future potential of AI (deep neural networks, machine learning, cognitive models) in FinTech for financial inclusion in India.

Jacob Koshy, Head of Sales Asia Pacific for AI and Automation Services, Infosys
Jacob leads the Asia Pacific sales and client engagement for AI and Automation Services for Infosys, and partners with customers to help them chart their roadmap across the automation spectrum leveraging everything from robotic automation to cognitive services. Based out of Melbourne, Australia, Jacob has worked across US, Europe and India geographies and handled roles across sales, consulting and delivery. Given his breadth of experience, Jacob's strength lies in his ability to drive effective problem finding, leverage cutting edge technology and harnessing the strength of distributed teams to deliver contextual solutions.
Related Readings