Infosys Successfully Concludes #HackWithInfy 2022; Re-enforces Commitment Towards Tech for Good
Infosys recently concluded the fifth edition of #HackWithInfy, a nationwide annual coding competition for engineering students, in Pune on 29th August. This competition for engineering students reiterates Infosys' focus on strengthening synergies between academia and industry while building the leverage of Tech for Good.
#HackWithInfy has helped Infosys engage directly with over 7.9 lakh engineering students from 3500+ institutions in India over the last five years. This year, the competition received over 276,000 registrations and served to provide opportunities for Specialist Programmers and Digital Specialist Engineers to further their careers in digital with Infosys.
The first round of the competition comprised an online coding challenge, which was hosted on the Infosys Assessment Platform. The top 100 participants from this initial round advanced to the final round, which was held at Infosys' Pune Development Center. For this, the participants were divided into 18 teams and were allowed to choose from a bunch of problem statements to work on, centered on:
Drone-based biodiversity management
Hazardous workplace monitoring solution
Addressing one of the UN Sustainable Development Goals (SDG) using IOT and Extended Reality (XR)
The teams that qualified for the grand finale were judged by a jury comprising Mohammed Rafee Tarafdar (Chief Technology Officer, Infosys), Viral Thakker (AVP – Senior Principal Technology Architect, Infosys), and Ramanath Shanbagh (AVP – Senior Principal Technology Architect, Infosys).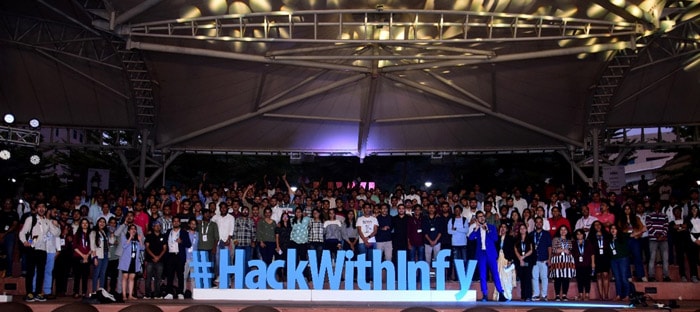 The winners of the 2022 #HackwithInfy are:
Shivani Reddy, G., Narayanamma Institute of Technology and Science (GNITS), Hyderabad, Telangana
Mayur Ray, National Institute of Technology (NIT), Agartala, Tripura
Md Tashhirul Islam, Maharaja Agrasen Institute of Technology (MAIT), Delhi
Nikhil Kashyap, ABES Engineering College (ABES), Ghaziabad, Uttar Pradesh
Niraj Shinde, International Institute of Professional Studies - Devi Ahilya University (IIPS), Indore, Madhya Pradesh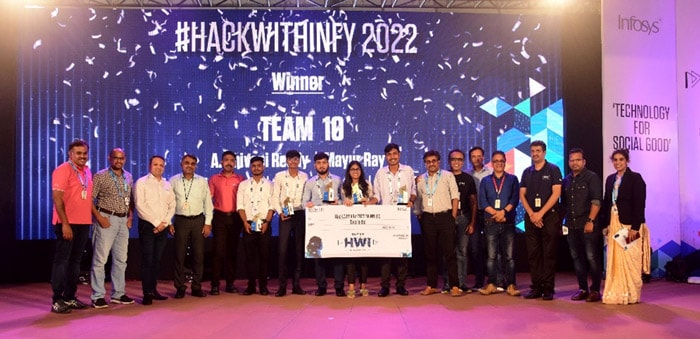 The winning team was awarded a prize purse of INR 200,000, the first runner-up team awarded INR 100,000, and the second runner-up team awarded a sum of INR 50,000.
Finalists participated in the 40-hour hackathon and, through multiple interactive sessions, benefited from learning from Infosys.
#HackWithInfy has won six international awards – Brandon Hall Gold Award for Best Recruitment Marketing & Employer Branding Program, Best Candidate Experience and Best Unique or Innovative Talent Acquisition Program, and a Stevie Silver Award for Best Youth Employment Strategy. Over the past five years, the hackathon has received stellar registrations and has been among the most prestigious coding competitions in the country.
For further information, please contact: PR_Global@infosys.com