Infosys Recognized as Second Largest IT Transformation Partner by AutomotiveIT
Wins silver position among Top 25 Automotive IT Systems Integrators and moves up from fourth to second rank in just one year
Infosys has been recognized by AutomotiveIT, the leading automotive media in Germany, as the second largest IT services provider among 25 companies. On a mission to co-create the future of mobility, Infosys Automotive practice has been a trusted digital transformation partner to the top 10 automotive OEMs and major automotive suppliers. Infosys has climbed up the ranking two places, strengthening its position as an industry leader and trusted partner. Last year, Infosys won the Rising Star of the Year 2022 award and within the span of one year, has risen to the second position.
AutomotiveIT conducts a comprehensive evaluation of IT service providers and publishes annual rankings based on its findings. This recognition by AutomotiveIT is a testament to Infosys' long-term strategic partnership with automakers, with a focus on providing high-quality, client-centric solutions. Infosys has been focused on supporting automotive manufacturers transform into AI-first enterprises with strategic investments in technologies, including Infosys Cobalt and Infosys Topaz, Cloud and AI-first set of services, solutions and platforms.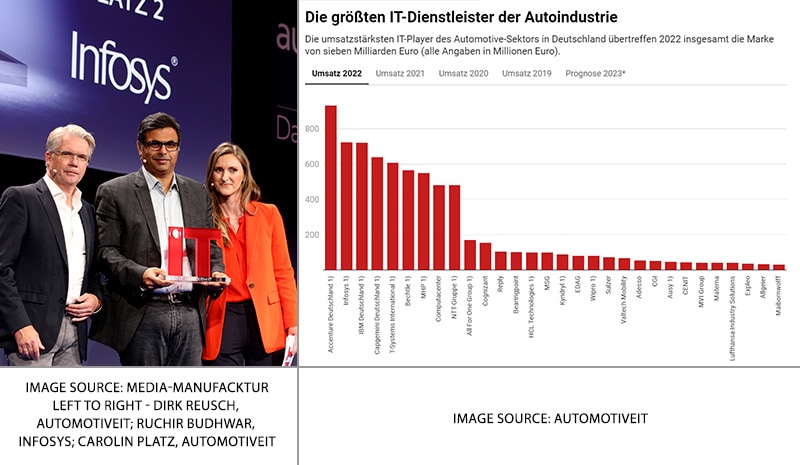 To learn more about the award, please visit HERE.
To learn more about Infosys Automotive practice, please visit HERE.