Infosys Positioned as a Leader for the Second Time in the IDC MarketScape: Worldwide Artificial Intelligence Services 2023 Vendor Assessment
Infosys is recognized as a Leader for a second time in IDC MarketScape's Worldwide Artificial Intelligence Services 2023. The IDC MarketScape evaluated AI services vendors across scoring criteria and collected feedback from customers on their perception of the key characteristics and the capabilities of these vendors.
We believe Infosys applied AI, part of Infosys Topaz, brings together the power of AI, analytics, and cloud to deliver innovative business solutions and AI-first experiences. The integrated offerings allow enterprises to 'discover' (unlock value through data and AI), 'democratize' (scale adoption across enterprises), and 'derisk' (adopt AI in a sustainable manner).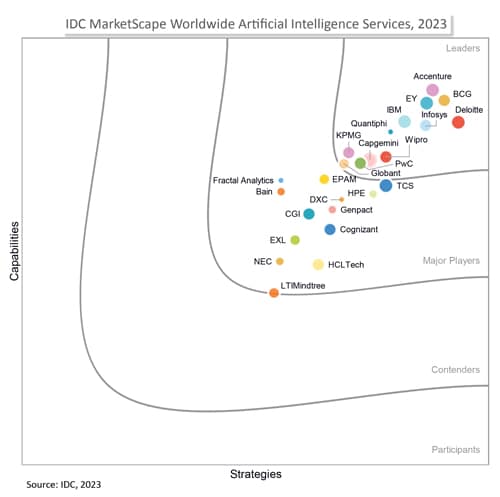 SOURCE:IDC MarketScape: : Worldwide Artificial Intelligence Services 2023 Vendor Assessment (doc #US49647023, May 2023)
IDC MarketScape vendor analysis model is designed to provide an overview of the competitive fitness of ICT suppliers in a given market. The research methodology utilizes a rigorous scoring methodology based on both qualitative and quantitative criteria that results in a single graphical illustration of each vendor's position within a given market. The Capabilities score measures vendor product, go-to-market and business execution in the short-term. The Strategy score measures alignment of vendor strategies with customer requirements in a 3-5-year timeframe. Vendor market share is represented by the size of the icons.
Key strengths called out:
Infosys' strengths are the company's ability to provide solutions using client- preferred AI technology providers, resolve problems or issues related to customer service, showcase and codevelop relevant use cases for AI solutions, integrate Infosys' project team with their internal team, and secure AI algorithms, APIs, and training data. IDC considers Infosys' breadth of technology and other alliances and strategies around offerings, sales and distribution, marketing, IP monetization, and employee skills and retention as key strengths. Infosys also showcased strengths in breadth, depth, and impact of AI services innovation activity.