Infosys positioned as a Leader in IDC MarketScape for Worldwide Artificial Intelligence Services 2021
Infosys has been positioned as a Leader in the IDC MarketScape: Worldwide Artificial Intelligence Services 2021 Vendor Assessment. The IDC MarketScape assessed 19 AI service providers across various characteristics for the study.
The recent launch of Infosys applied AI, which helps enterprises scale and future proof their AI-powered transformations, contributed in us being named a Leader. The applied AI offerings span the life cycle of AI deployments, including Discover (Define AI), Democratize (Enable AI, Innovate AI, and Accelerate AI), and Derisk (Responsible AI).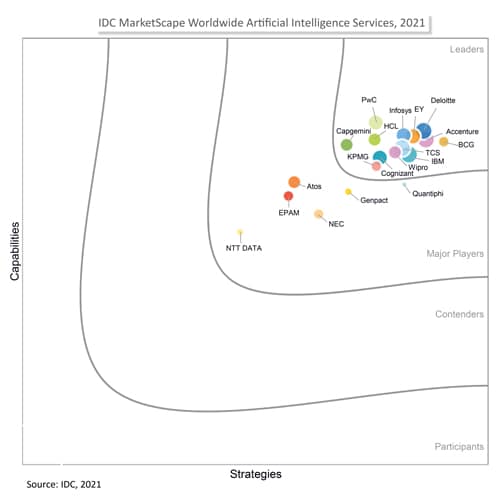 Source: IDC MarketScape: Worldwide Artificial Intelligence Services 2021 Vendor Assessment, by Jennifer Hamel, May 2021, IDC Doc#US46741921
IDC MarketScape vendor analysis model is designed to provide an overview of the competitive fitness of ICT suppliers in a given market. The research methodology utilizes a rigorous scoring methodology based on both qualitative and quantitative criteria that results in a single graphical illustration of each vendor's position within a given market. The Capabilities score measures vendor product, go-to-market and business execution in the short-term. The Strategy score measures alignment of vendor strategies with customer requirements in a 3-5-year timeframe. Vendor market share is represented by the size of the icons.
Key callouts & strengths
"IDC considers Infosys' end-to-end life cycle of AI services portfolio and strategies around customer retention, innovation and R&D and employee skills and retention as key strengths."
"Buyers rated Infosys highly for its ability to provide technical insights and competency, meet the engagement timeline and handle changes in engagement scope, and deliver AI solutions in production at scale."
"Infosys also showcased strengths in achieving business outcomes for clients with AI services and in breadth, depth, and impact of AI services innovation activity."
Read the excerpt for more details and to know more about Infosys applied AI.