Infosys Named Leader in Forrester's Multicloud Managed Service 2020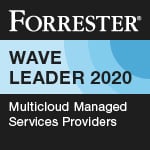 Forrester has positioned Infosys as a 'Leader' in The Forrester Wave™: Multicloud Managed Service Providers, Q4 2020 by Bill Martorelli, Principal Analyst, Forrester Research.
The Forrester Wave™: Multicloud Managed Service Providers (MMSP)
As workloads migrate to the cloud, managed services are stepping up with care and feeding. I&O professionals understand traditional infrastructure services well, but the dynamics of managed services provisioning in the cloud environment are quite different. Services are evolving quickly and span everything from applications to infrastructure.
Companies are seeking partners that can help them evolve as they embrace this technology platform at a time when the ability to adapt with speed is of the utmost importance. This necessitates full capabilities, from advisory through operations. Suppliers best able to address enterprise requirements offer a broad range of capabilities.
As a result of these trends, customers should look for multicloud managed services providers that:
Can help throughout their cloud journeys
Have the ability to invest in capability expansion
Have demonstrated qualifications and partnerships with major cloud suppliers
Evaluation Overview
For this MMSP wave, Forrester evaluated 11 providers across 24 criterions in 3 categories covering Current Offering, Strategy and Market Presence. This report shows how each provider measures up and helps infrastructure and operations (I&O) professionals select the right one for their needs.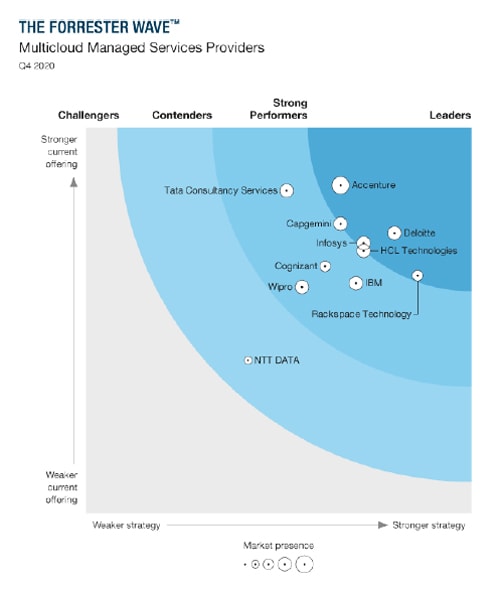 Views on Infosys
Infosys brings applications services strength to bear in managed cloud services
Infosys' managed cloud practice focuses on applications services, including build, migrate, operate, and modernize.
Its revenue concentration reflects this; modernization is a particularly strong focal point.
Its recently introduced Cobalt cloud offering is a collection of services, solutions, and platforms powered by development assets, engineering assets, and other elements of services delivery under a unified framework.
Infosys has been a longstanding player in cloud management technology; Polycloud is the latest iteration, tracing its history back to the original Cloud Ecosystem Hub.