NelsonHall Recognizes Infosys as a Leader in Cognitive and Self-Healing IT Infrastructure Management Services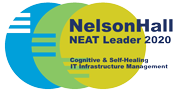 NelsonHall assessed and evaluated Infosys' offerings and capabilities in cognitive and self-healing IT infrastructure management, and has identified Infosys as one of the overall leaders and a leader with specific capabilities in cognitive service desk and server-centric services in its NEAT evaluation released in February 2020.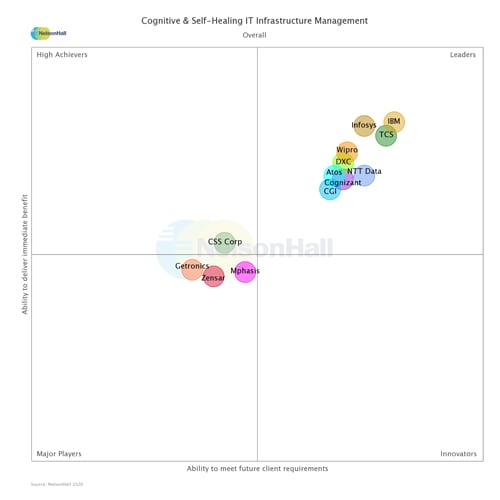 The report states "In support of cognitive & AI operations, Infosys continues to evolve its hybrid IT management framework and automation capabilities through a mix of IP (Infosys Infrastructure Management Suite (IIMS), NIA, AssistEdge, and ESM Café). It also utilizes an extensive third-party partner ecosystem in a technology-agnostic approach. It is expected that Infosys will continue to expand its ecosystem partnerships in particular across open source, and with digital start-ups and ISVs in support of its hybrid IT management framework."
The evaluation highlights Infosys strengths with regard to:
Infosys IP like Infosys Infrastructure Management Suite, NIA, AssistEdge, and Enterprise Service Management Café
Development of Polycloud platform to accelerate time to market and meet the demand of cloud-native environment
Comprehensive partner ecosystem in support of hybrid IT management and automation framework
Automation factory approach for large deal transformation, enabling rapid innovation and use cases development
Partnerships with academic institutions to seed skilled workers
Significant investment in the training of personnel.
The report also highlights Infosys' Localization initiatives in support of cognitive and AI services through:
Enhancing consulting, advisory and design thinking capabilities through utilization of WONGDOODY and Brilliant Basics acquisitions to support IT transformation initiatives
Expanding digital studios and digital centers globally (to provide localized support), and investing in digital skills, and in partnerships with academia to better enable clients' IT infrastructure transformation roadmaps and initiatives
Expanding AI and automation CoEs.
John Laherty, NelsonHall Senior IT Services Research Analyst, said: "Infosys continues to develop significant capabilities in support of Cognitive & Self-Healing AI based IT Management Suite, across its own IP and third-party ecosystem partners in a technology-agnostic approach. Its IIMS combines multiple open source technologies supported by Infosys' NIA cognitive, ML algorithms, and AI technology. Infosys is also placing more focus on predictive, self-healing, and self-learning capabilities as it seeks to drive autonomous operations through its AI ops engine across the entire IT ops stack."