Infosys wins Microsoft Platform Modernization Alliance Award at Microsoft Inspire 2017
Recognized for Mainframe migration to Cloud initiatives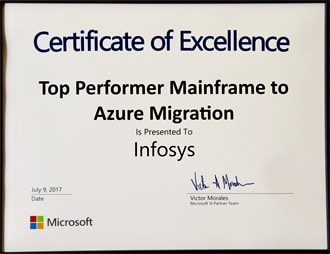 Infosys has been awarded the Microsoft Platform Modernization Award at Microsoft Inspire 2017 (Microsoft Worldwide Partner Conference), for the second time in a row.
The award recognizes Infosys' efforts in driving the strategic mainframe to Microsoft Azure migration initiative, at a time when cloud adoption is a key transformation agenda for clients.
Microsoft and Infosys have collaborated to design an implementation strategy for modernizing mainframes that leverages the Microsoft Azure Platform with Infosys' proprietary Accelerate-Renew-Transform Framework for successful modernization initiatives. With significant experience in the field, the joint strategy helps enterprises de-risk mainframe migration, reduce application cost, enable data analytics, and leverage as-a-service models for smooth application delivery.
"Infosys was awarded the Microsoft Platform Modernization Award 2017 for mainframe migration at Microsoft Inspire 2017. We value the significant contribution by Infosys and their acute expertise in this migration program. The collaboration presents a successful formula for enterprises looking to embark on mainframe modernization programs. The winning strategy involves understanding the client's technology and business requirements, engineering the program to minimize capex and seamlessly executing the program to provide an opex-oriented and self-funded model," said Bob Ellsworth, Director, WW Enterprise Modernization & Azure HiPo Partner, Microsoft Corporation.
Additional Resources:
Microsoft Azure: The right platform for mainframe modernization