Unlocking New Business Possibilities with Data Analytics and AI
The transformation unleashed by generative AI and advanced data analytics, with a cloud foundation, is changing business in profound, unalterable ways. It opens up a great opportunity for nations, enterprises and society to improve people's lives and livelihood. Governments and businesses will need to both innovate to find new solutions and, at the same time, mitigate the unique risks and challenges new technologies bring.
Infosys Topaz - an AI-first set of services, solutions and platforms uses generative AI technologies to build connected ecosystems, unlock efficiencies at scale and accelerate growth.
Transformation led by generative AI is fundamentally increasing the productivity of humans across a plethora of roles significantly shifting work value chains while also germinating new AI powered business models, products/services and ecosystem play that reimagine business and industry value chains.
With the heightened interest and traction in AI, further driven by generative AI, businesses are swiftly moving from digital core to their cognitive core that helped them capitalize on new opportunities. Most companies' data architecture has grown over several years, and potential value remains locked in a hybrid of cloud-based systems and still large footprint in legacy monoliths. Organizational knowledge too remains locked in documents, systems, and an aging workforce. The effort, to modernize this core is intensive. Navigating to value-at-scale, by breaking down the opportunity into micro wins, is not linear. AI, including generative AI, presents a great opportunity to create the exponential outcome through an autonomous software engineering across data engineering, analytics, data experience, AI including generative AI. This, we believe, will also democratize low code / no code platforms and give rise to "citizen developers" and "domain champions".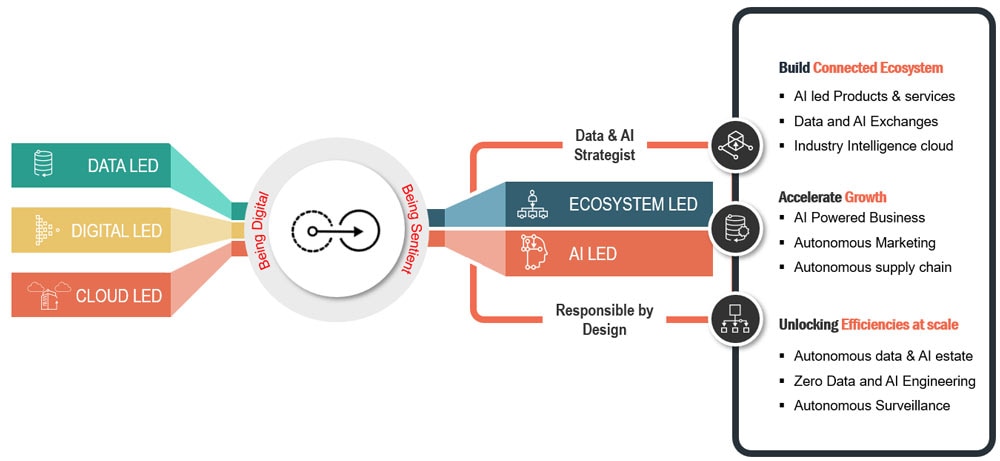 At the same time, newer technologies present unique set of risks and challenges that need to be address in order to build a sustainable future powered by data and AI. A sound data & AI economy rests on 5 cornerstones of Trust, Ethics, Privacy, Compliance and Security. New regulations will continue to emerge and businesses need to build strong foundation to protect the interests of society and stakeholders they serve.
We have our Data and AI offerings categorized into three broad themes:
Autonomous Data & AI Estate: As enterprises embark on this digital transformation journey, modernizing and managing Data &AI @Scale that Unlocks efficiencies is critical for enterprises to learn from data and network of partners and seed enterprise AI foundation that empowers business to drive growth and adopt new business models. Infosys Autonomous Data & AI Estate is a fully managed service that leverages AI across the data and AI engineering lifecycle to navigate from "High Touch" engineering process to a "Touch [Less]" process to manage Data & AI @Scale. The offering powered by solutions takes comprehensive accountability to manage, govern and transform client's data and AI landscape to reduce the total cost of ownership by up to 45% while ensuring security, compliance and SLA compliance as you embark on your modernization journey.

AI Powered Business: As enterprises navigate from being digital to being sentient harnessing the full potential of AI across their business functions, people, process and partners is critical to continuously learn from the signals, formulating responses, activating intelligence in a non-intrusive manner and amplifying the human potentials with cognitive workforce to drive accelerated business outcome and stakeholder value. Infosys AI Powered Business is a fully managed AI Industry Solutions and managed services that Accelerates business growth. The offering infuses AI and Cognitive decisioning across the business functions, processes, human interfaces and machines to navigate enterprise from "Automation" driven enterprise to an "Autonomous" Enterprise. The offering powered by AI Solutions takes comprehensive business outcome driven approach to strategize, experiment, industrialize and continuous measure business value and accelerates the time to market up to 55% while ensuring Privacy, Ethics, Security and Risk Management as the bedrock.

New Growth Engines: Data and AI is disrupting the industries boundaries and allowing enterprises to re imagine, re-invent and find new industry plays that requires to transcend industry boundaries, launching New Digital Business services and AI driven products/services. To seed, grow and thrive in this new fluid business model its critical for enterprise to knit an ecosystem around data, smart insights and safe collaboration.

Infosys New Growth Engine Offering is comprehensive Data and AI driven managed digital service Powered by Solution assets and ecosystem partners to unleash network effect for enterprises. This enables enterprises to servitization of data and insights, realize an Intelligent Business Verse, sustainability ecosystem services Smart Products/services and establish safe collaborative domain marketplaces.