Blue Prism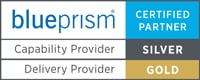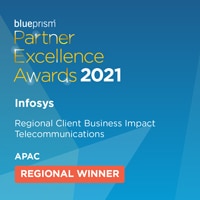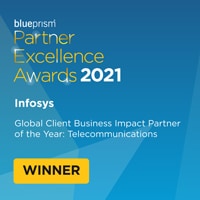 In the ever-changing landscape of the business environment, adaptability and agility are key for businesses to thrive and survive. The future workforce will be a seamless blend of interoperable human, digital workers and systems, working together to create new opportunities, efficient outcomes and customer value. Blue Prism's intelligent automation is a trusted and secure choice for the Fortune 500 and the public sector. Blue Prism can safely help clients scale and their digital workers deliver strategic work transformation at enterprise scale, opening businesses up to a large-scale work revolution.
Blue Prism is the global leader in intelligent automation for the enterprise, transforming the way work is done. Blue Prism has users in over 170 countries, in more than 2,000 businesses, including Fortune 500 and public sector organizations, that are creating value with new ways of working, unlocking efficiencies, and returning millions of hours of work back into their businesses. Their Digital Workforce is smart, secure, scalable and accessible to all; freeing up humans to re-imagine work. To learn more, visit www.blueprism.com, and follow on them on Twitter @blue_prism | LinkedIn.
Infosys has been recognized with two awards at Blue Prism World 2021 in these categories for delivering intelligent automation-based solutions for Telstra:
Regional Client Business Impact Telecommunications- APAC
Global Client Business Impact Partner of the Year Telecommunications
Infosys entered an alliance with Blue Prism in 2017 and attained Gold-level certification as a Delivery provider and Silver-level certification as a Capability provider in 2021.
As remarked by Gareth Lane, SVP Alliances & Channels, APAC, Blue Prism:
"We are proud of this accomplishment, which is evidence of Infosys' expertise in intelligent automation and strong track record with many successful Blue Prism RPA projects over several years."
The partnership entails advantages for clients with:
Blue Prism partner support provides access to the ticket-based priority product support
Access to Blue Prism experts as and when needed
Infosys implemented projects are audited by Blue Prism directly
Infosys created design documents adhere to Blue Prism's established guidelines and are certified by them
Infosys is a global reseller of licenses of Blue Prism and can offer attractive discounts in its capacity
Collaborative delivery:
Years of delivery experience, in collaboration with Blue Prism ensures a win-win for our clients
Blue Prism partakes in design reviews with Infosys to create "First time Right" solutions for customers
Product road map and details about new product features are made available to on Infosys on priority basis ensuring most up to date capabilities being made to clients
Multiple cross-vertical engagements and experience across Process Discovery, Process design & implementation, Platform Upgrades, Infrastructure support, Post implementation hyper-care and L1 /Run support
Access to knowledge base:
Infosys always has access to Blue Prism knowledge base
Partner enablement program access to all training programs in Blue Prism learning Management system on a regular basis ensuring Infosys resources are up to date to address all client requirements
Frequent participation in Blue Prism Hackathons enable regular and hands on exposure to, and knowledge of the tools
Announcements
Solutions
Infosys Cognitive Email Workbench – an AI driven solution leveraging Blue Prism RPA
Infosys' Cognitive Email Workbench solution combines intelligence from AI and NLP, with action using Blue Prism's Robotic Process Automation (RPA) platform, and OCR capabilities to automate the steps required for fulfilment of email-based queries and service requests. This integration with Infosys' Natural Language Processing based solution adds the critical skills of assisted and unassisted email responses to Blue Prism intelligent automation.
Listed on Blue Prism Digital Exchange, this solution gives enterprises the ability to focus on requests that are more specific and need manual intervention within Blue Prism Digital Worker's defined workflow; scale helpdesk operations with assisted automation and drive superior customer and partner experience.
Automated Image Resizing
The solution helps resize images in Microsoft Word files using macro. It combines the web browser automation and Word application automation, using Blue Prism's Robotic Process Automation (RPA) platform. It fulfills the requirement of logging into the web browser, captures and saves images to Word files, and resizes all images in one go using macro, and converts Word files into PDF format.
Other highlights:
Infosys has been associated with Blue Prism across regions through
Blue Prism Partner Excellence Awards, Blue Prism World, 2021
Blue Prism Partner Excellence Awards, Partner Forum, 2021
Joint Announcement, August, 2020
Blue Prism World, Orlando, 2019
Maximizing Your RPA, Practitioner Summit 2019, Bangalore | Pune