Infosys and HPE Partnership: Boosting business in a hybrid world

Infosys and Hewlett Packard Enterprise (HPE) have been strategic partners for more than 20 years. Together with HPE, Infosys is enabling organizations to increase agility and efficiency, unlock insights and deliver business innovation by transforming their technology scape in the areas of - multi-cloud environments; migrations to SAP HANA; wired and wireless networking solutions; application modernization including container orchestration and management; AI/ML and data analytics; cost control; IT automation and AI-driven operations; and security.
Infosys is recognized by HPE as the Global System Integrator of the Year 2021 and Asia Pacific System Integrator of the Year 2021. The 2021 HPE Partner of the Year Awards recognize HPE partners from across the ecosystem for their incredible commitment to customer excellence, continued strong performance, focus on growth, and dedication to our mutual achievements. Winners were selected based on financial performance, innovative solutions, and ability to drive transformative business outcomes for shared customers.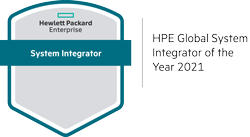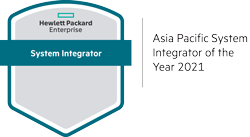 Latest on Infosys-HPE Partnership
Our Offerings
Committed towards empowering enterprises drive their transformation journey from legacy technologies to a modern and innovative hybrid platform, Infosys and HPE have tailored solutions spanning all industry verticals including financial services, insurance, hi-tech, life sciences, manufacturing, retail, energy, communications and services.
Infosys and HPE led partner eco-system has setup a Private 5G Innovation Lab in Infosys, Bangalore, India. Infosys and HPE will be driving 5G Private Cloud conversations with global enterprise customers and further the smart factory, connected systems, IT-OT integration, industry 4.0 initiatives.