Constellation Research – Infosys Sustainability Delivers a Wide Range of ESG Capabilities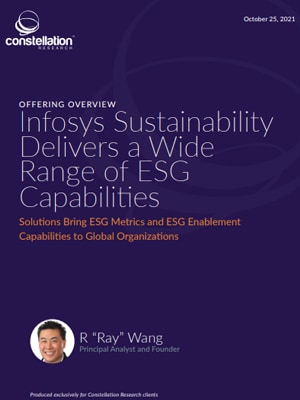 Constellation research has done an in-depth analysis of the Infosys Sustainability practice and created a report on Infosys' offerings & capabilities, ESG challenges for buyers as well as recommendations to buyers seeking ESG solutions.
This offering overview examines the environmental, social, and governance (ESG) solutions and offerings from Infosys. Growing interest in supporting a wide range of United Nations Sustainable Development Goals (SDGs) has led to new frameworks that address areas from climate change to employee compensation. Early adopters should use this report to identify the market trends and forces shaping the future of ESG solutions as well as the best-practice recommendations.
This report identifies key differentiators, examines functional capabilities, considers the offerings' strengths and weaknesses and provides best-practice recommendations. Technology buyers should use this report to evaluate Infosys for implementation.