In a position of command

In our journey to reach our resource efficiency targets and sustain our performance, we have a new ally — real-time data.
By staying on top of the operations data and performance parameters of our buildings and campuses, we have been able to bring in unprecedented levels of optimization and deliver excellence.
Introducing the Infosys Command Center
...the hero in our green crusade.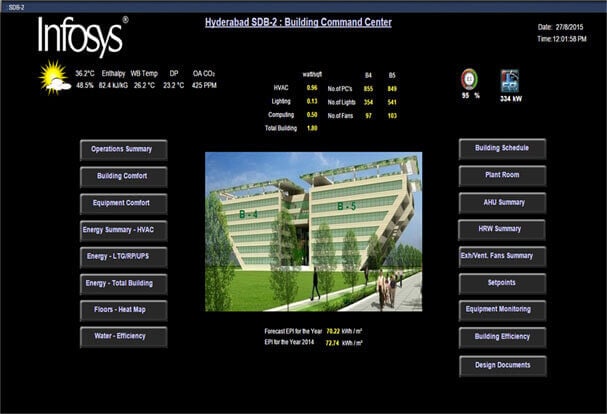 All operations data tracked in real-time
We always know what's going on…
We have adopted a data-driven operations approach to manage, on a real-time basis, occupant comfort, indoor air quality, energy intensity, water intensity, health of critical assets, critical operations, renewable energy generation, water and waste treatment, and the overall performance at all levels within all our buildings in our campuses.
The insights gained through this 24/7 real-time monitoring alerts us to potential resource wastage and identifies areas of improvement for faster action.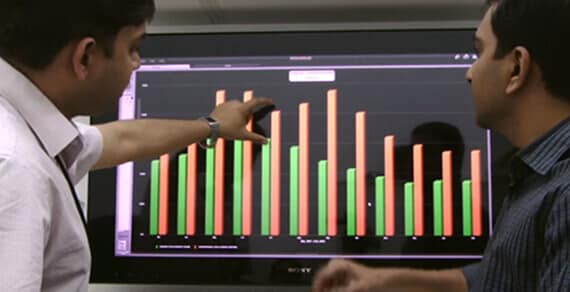 Proactive management of key performance indicators of all assets by our Command center
Proactive management
The Command Center enables the proactive management of our Key Performance Indicators (KPIs), where even a slight performance deviation of an asset is immediately detected and actioned in time. This prevents asset deterioration by operating at efficiencies they have been designed for, all through their lifetime.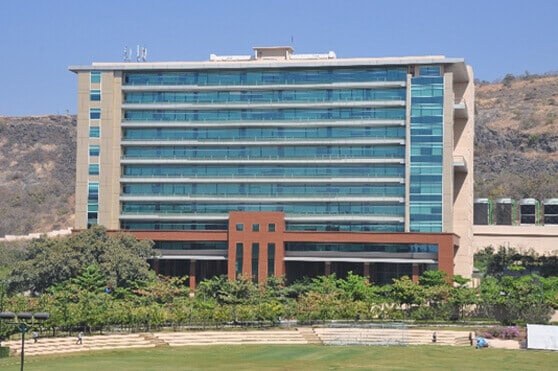 Actual performance data used for building designs at our Pune phase 2 campus
Leveraging the power of data for design measurement
We are now in a position to challenge every design assumption with data. Our operations data measurement at the command center allows us to validate the assumptions made at the time of designing infrastructure. Using actual performance data, we can now evolve better designs for the future that are not just lower on operations cost but on first costs as well.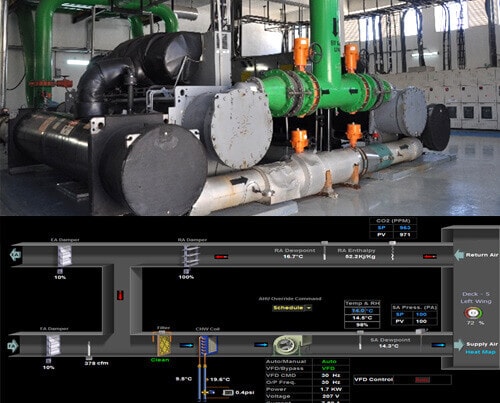 Artificial intelligence-powered analytics generated at our Command center for chiller operations
For us, it isn't about running operations alone
It's about automating operations through artificial intelligence. Through the Command Center, we schedule 'auto-pilot' operations using in-built intelligent systems. These systems manage infrastructure to deliver against the set points to help us reach the desired operating conditions with the minimum use of resources.
The Command Center has initiated a cultural change in the way we manage resources at Infosys. And the change is here to stay.
Actions taken based on Command Center data insights:
Over 30.4 million square feet, 149 buildings monitored through Command center for remote performance management to deliver highest standard of operations, thermal comfort and air quality for our building occupants
Enhancing Occupant Comfort by connecting Employee through Mobile apps to receive feedbacks & thereby system acts automatically
Improved Indoor Air quality by using PM 2.5 sensors to monitor all our Indoor spaces
Improved Building & Equipment performance by using Analytics platform for diagnose faults much earlier
Identified over 1000 KL of water leakage in all campuses through data from smart water metering
Identified and resolved issues with indoor air quality in various buildings, based on real-time data
Identified and corrected chiller plant efficiencies by comparing actual performance with design performance in real time
Maintained all equipment performance using real-time data of the weather and the building systems.