How a conviction led to one of the world's largest energy efficiency retrofit programs

Years of research and new technologies have given us multiple ways of saving energy in our newly constructed buildings. But, what about the existing buildings with systems that are more energy-intensive?
We were convinced that investing in the overhaul of our existing systems would make excellent business sense in the medium to long term. Driven by this belief, over the last few years, we have invested in retrofits – that is, re-engineering and retrofitting the existing systems with new, energy-efficient ones. In the process, we have also created one of the largest energy efficiency retrofit programs of the world.
25
million Area covered (Sq.Ft.)
Air conditioning retrofits
Our investments in air conditioning retrofit systems have helped us achieve higher levels of energy efficiency in existing buildings and campuses. For example, several chiller plants across our campuses have been retrofitted to bring about drastic reductions in energy consumption.
Air conditioning retrofits alone have helped us achieve a total reduction of 17 MW in connected load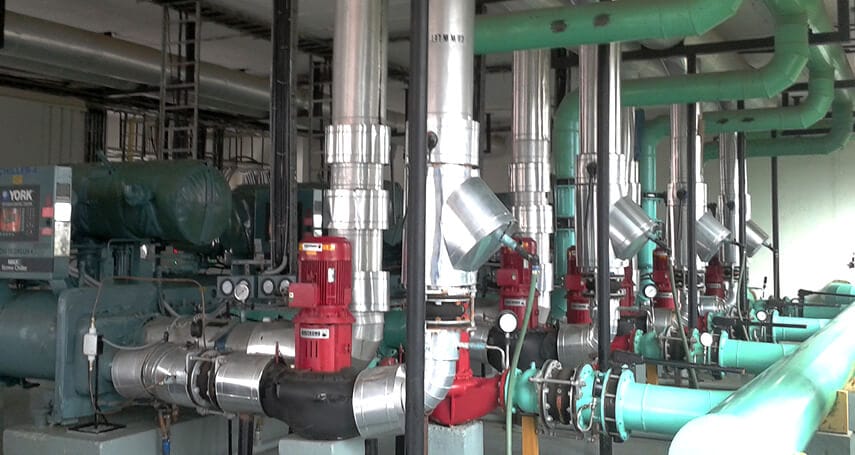 Our team of experts recommended the replacement of conventional primary-secondary chilled water system with a variable primary pumping system. Due to the improved design, the connected load in the plant room reduced by 70%, and an energy saving of over 30% was achieved. The new design simplified the layout, reduced the number of valves, pumps and other equipment in the plant. The simplified design and layout meant that the new system was easier to operate and maintain.
Lighting retrofits
Lighting retrofits alone have helped us achieve a total reduction of 2.3 MW in connected load
As part of the lighting retrofit program, we have replaced conventional CFL with low-wattage LED light fixtures inside our buildings. This has not only reduced the lighting load by about 37%, compared to the use of conventional fixtures, but also helped improve visual comfort for the building occupants, by offering lighting that is more volumetric and uniform than before. Street lights in our campuses that used metal halide fittings have been replaced with energy-efficient LED fixtures that provide improved lighting and reduced night sky pollution.
Façade retrofits
Façades act as shields for our buildings, and have a huge impact on cooling, lighting, and occupant comfort inside the building. The façades in our existing buildings are made of single glass units, in most cases from floor to ceiling, resulting in high solar ingress, and heating up of interior space, necessitating more intense air conditioning. We have upgraded these facades to reduce heat ingress in our buildings to bring in higher levels of thermal and visual comfort for the building occupants along with improved energy efficiency for the building.
Read more: Keeping cool: Our heat-repelling building envelopes
We have observed a 25% reduction in external heat gain and substantial reduction in our annual energy consumption after this retrofit.
While we retained the original façade, we reduced the amount of glass in our building façades and converted the single glass unit to a double glass unit. To further combat direct solar heat ingress, we added exterior shades and insulation to walls and roofs. In addition, we painted the roof area white, so that it reflects solar radiation.

UPS retrofits
Our conventional UPS systems were bulky and had lower efficiencies in the range of 78%. We have replaced them with modular systems that require fewer batteries, less space and lower operation and maintenance costs. The new UPS systems have higher efficiencies of over 94% and lower installed capacity owing to their modular design.
UPS retrofits have helped us achieve a total reduction of 14 MW in connected load
Green gains
Through our deep green retrofits in areas like air conditioning, UPS, and lighting, we have achieved over 33MW of reduction in connected load, compared to the baseline figures of 2008 when we began our energy efficiency journey. Further, this has helped us improve thermal as well as visual comfort for our building occupants, having a positive influence on their productivity at work.
We have tried it. You can too.
Most of these retrofits have an average payback of about three years and can be easily replicated and scaled up, making sound business as well as environmental sense. We are hopeful that other organizations will be able to use our learnings to adopt similar measures for their buildings.