With our heart in the right place Volunteering stories from Infosys USA
Infosys USA is a perfect example of the power of a few. Individual volunteers of the Infosys Foundation USA continue to make a big difference to the lives of the less privileged in every location that they are based across the country.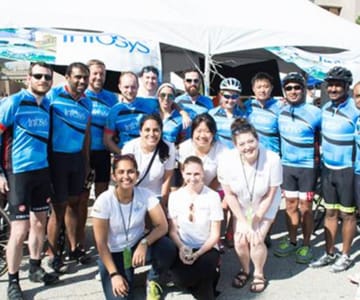 Runners for a cause
This year, we sponsored 100 interested employees to participate in the San Francisco Marathon – a series of road-running events held every year in San Francisco, California.
Infosys also enrolled in the JP Morgan Corporate Challenge 2016, a 5K race event to promote a healthier lifestyle and encourage co-workers to work out together. JPMC donates money to charity based on the number of participants.
The game is on
Some of our employee volunteers raised money by conducting sporting events such as tennis, cricket, volleyball, and football at a local park in the North South Foundation fundraiser, Connecticut – a volunteer driven non-profit organization that provides scholarships to promising but needy students.
BP MS 150 Marquee, a charitable cycling event for our client, BP, and other clients from the Oil and Gas industry, was another event we participated in. Infosys sponsored a team for this event held in the aid of multiple sclerosis patients. We had 18 riders representing team Infosys.
Support where needed
The Hidden Gems fundraiser, New Jersey, was an opportunity for our New Jersey-New York employees to raise funds for this non-profit. The funds collected are given to serve a range of charitable causes, including support for natural disasters such as hurricanes, earthquakes and floods, across the globe.
The mission of the U. S. Marine Corps' Toys for Tots Program is to collect new, unwrapped toys during October, November and December each year, and distribute these as Christmas gifts to less fortunate children in the community in which the campaign is conducted. Infosys became a part of this initiative in November, 2016. The primary goal of Toys for Tots is to deliver, through a new toy at Christmas, a message of hope that will inspire the less fortunate youngsters to become responsible, productive, patriotic citizens. This initiative succeeded in bringing together the Infosys community spread across the region and united them in a common endeavor to bring smiles to children during the holiday season.
This year also saw employees of Infosys in the US take part in the Power Walk for Dress for Success, NYC. This event supports women and encourages them to lead a healthy, well-balanced lifestyle that yields success in their professional careers. The event in 2016 was anchored by one of our employees and offered an excellent volunteering opportunity for employees in the New York-New Jersey area.