N. R. Narayana Murthy the ninth recipient of The James C. Morgan Global Humanitarian Award
Infosys Founder and Chairman Emeritus N. R. Narayana Murthy has been honored with The James C. Morgan Global Humanitarian Award given by the Tech Museum.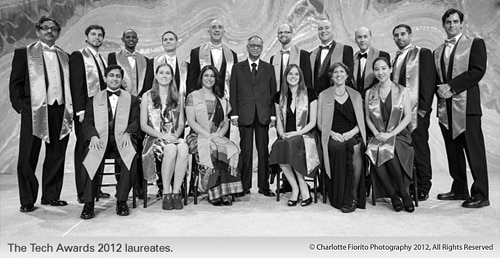 The Global Humanitarian Award was inspired by Applied Materials Chairman Jim Morgan and recognizes individuals whose broad vision and leadership on a global scale is helping find solutions to humanity's greatest challenges.
Murthy accepted the honor in Silicon Valley on November 15, 2012 during The Tech Awards gala, presented by Applied Materials, in association with the Center for Science, Technology, and Society at Santa Clara University.
In his acceptance speech on receiving the award, Murthy said: "Adoption of technology is a very important instrument to fight social injustice and to make life better and more dignified for the poor and the helpless." "…it is imperative that we bring confidence and dignity to the poor. It is imperative that they have decent access to education, nutrition, healthcare, clean water and air, and shelter."
Previous recipients of The James C. Morgan Global Humanitarian Award include Internet entrepreneur Jeff Skoll, education and cross-cultural dialogue advocate Queen Rania Al Abdullah of Jordan, Nobel Laureate and former U.S. Vice President Al Gore, Microsoft co-founder Bill Gates and Applied Materials' Chairman Emeritus James C. Morgan.
Read
Published with permission of The Tech Museum
Transcript of N. R. Narayana Murthy's acceptance speech
Related reading
Blog: Infosys salutes Mr. Murthy: Technology leader. Visionary. Humanitarian giant
Fortune names N. R. Narayana Murthy among 12 greatest entrepreneurs of our time