Infosys Meridian
Live Enterprise Workplace Platform
As companies transition to a hybrid work model and adapt to the new normal, they must pay heed to key business imperatives, such as modernizing work processes, boosting employee morale and productivity, and switching to virtual engagements.
Infosys Meridian, a Live Enterprise Workplace Platform, helps companies reimagine experiences in the work-from-anywhere era. The platform is part of Infosys Cobalt and enables enterprises to evolve into a remote-first, hyper-productive anywhere workplace that deepens stakeholder engagement, streamlines work processes, and enhances productivity. Infosys Meridian enables new possibilities across industries with out-of-the-box use cases for sectors such as Financial Services, Manufacturing, Healthcare, Education, and Insurance.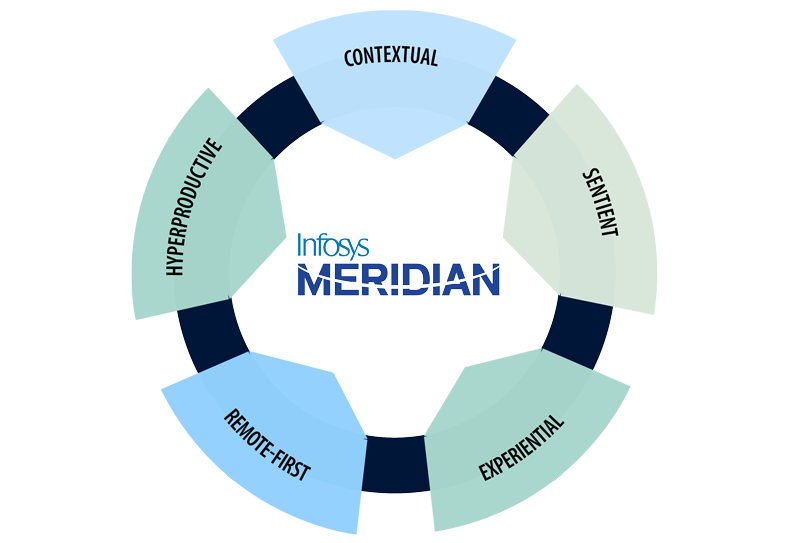 The key offerings of this sentient, experiential, remote-first, contextual digital-native, cloud-first platform include:
Reimagining Work Processes: Designed to make processes simpler and smarter by adding context to every interaction, and with capabilities such as asset discoverability and digital prototyping.
Enhancing Workforce Productivity: Powers intelligent operations for digital workers, nudging them for better decision-making, guiding them with productivity patterns, and empowering them with playgrounds to test, learn & succeed.
Deepening Stakeholder Engagement: Delivers simulated live experiences in an immersive virtual environment allowing for seamless engagement across employees, clients, and value chain partners.