Infosys positioned as a Leader in ISG Provider Lens™ Next-gen Application Development & Maintenance Services U.S. 2020
In its ISG Provider Lens™ Quadrant report, "Next-gen Application Development & Maintenance (ADM) Services U.S. 2020," ISG recognized Infosys as a Leader across four quadrants: Next-gen ADM, Agile Development, DevSecOps Consulting and Continuous Testing - Large Accounts. The report evaluated a total of 40 providers of Next-gen ADM services.
As per ISG, "Infosys offers a strong ADM portfolio that is composed of the Live Enterprise Application Platform (LEAP), Bot Factory Framework and Modernization Suite for application modernization. These proprietary assets, combined with company's large-scale focus on ADM, establish it a leader in this domain."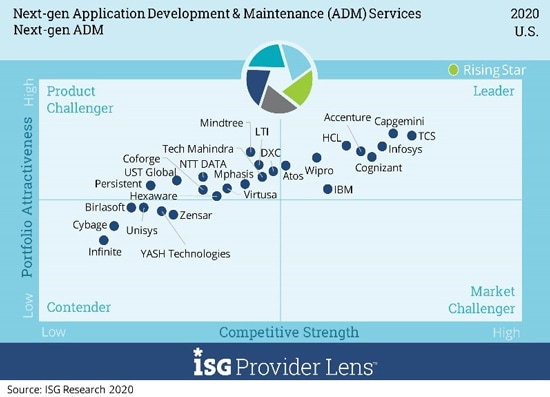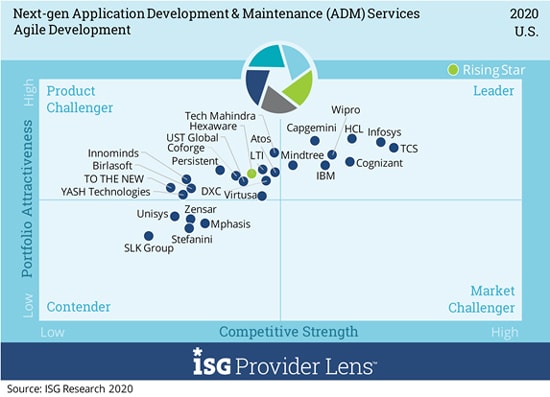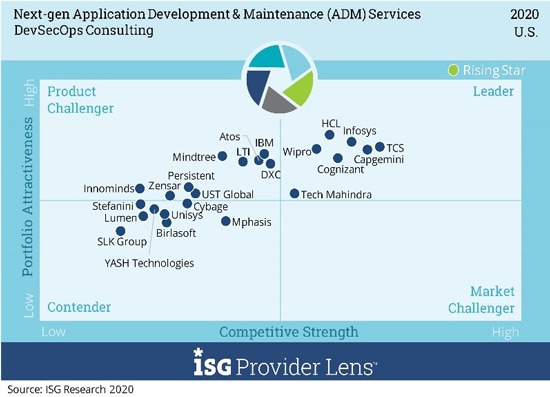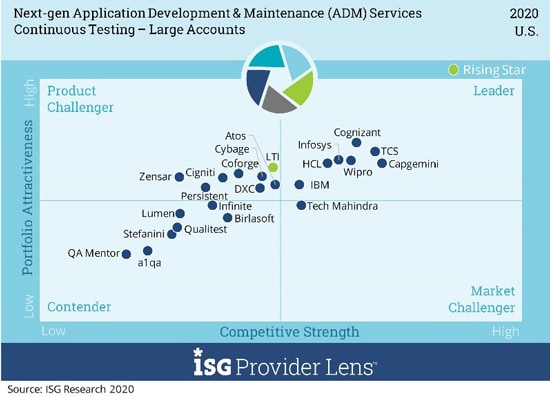 Key highlights from the report:
Infosys offers a framework-led approach to ADM that is well integrated with its proprietary assets. The company's automation- and AI-focused tools, bots and other proprietary assets provide cost- and time-related benefits to customers. This makes the firm a leader in the next-generation ADM domain.
Infosys has a well-established Agile development practice that includes a strong education roadmap delivered through a robust learning platform, partnerships with ecosystem players and design innovation hubs. This unique mix of assets and capabilities makes Infosys a leader in Agile development.
Infosys offers a strong continuous testing portfolio with an intelligent automation framework and intellectual property (PANDIT, Infosys Legacy Modernization, Microservices Test Automation Platform, Infosys Data Testing Workbench) assets. Its well-rounded portfolio with frameworks, proprietary assets and a large skilled resource base that is trained in various testing tools make it a leader in the continuous testing domain.
Infosys DevOps practice is backed by security-focused investments, a large base of DevOps practitioners, a framework approach and strong focus on open-source and proprietary assets.