Double Win for Infosys Topaz at CogX; Bags 'Enterprise Adoption of AI' Award for Second Consecutive Year

Infosys Topaz has put in an outstanding performance at this year's CogX Awards in London. It won 2 awards, for outstanding achievements and research contributions in the enterprise adoption of artificial intelligence (AI) as well as for presenting the best innovation in robotics and automation.
The awards stand testimony to Infosys' commitment to knowledge, society, culture, and innovation. As a recipient of the 'Enterprise Adoption of AI' award, Infosys has been commended for accelerating the AI-first journeys of enterprises with Infosys Topaz. This is an AI-first set of services, solutions, and platforms using generative AI technologies. Infosys Topaz helps amplify the potential of humans, enterprises, and communities to tap into the next generation of opportunities. This enables us to help clients create value from unprecedented innovations, connected ecosystems, and pervasive efficiencies.
This is Infosys' second consecutive recognition under this category owing to our focus on successfully deploying complex AI integrations in our operations.
Infosys also bagged the 'Best Innovation' award under the robotics and automation category. This award celebrates the pioneering breakthroughs that are transforming our future in a world where AI is rapidly reshaping work and life. The award this year for Infosys Cognitive Automation Studio, a part of Infosys Topaz, recognizes our exceptional innovation in robotics,. Infosys Cognitive Automation Studio is a platform-neutral offering that helps build a digital workforce and democratize automation at scale.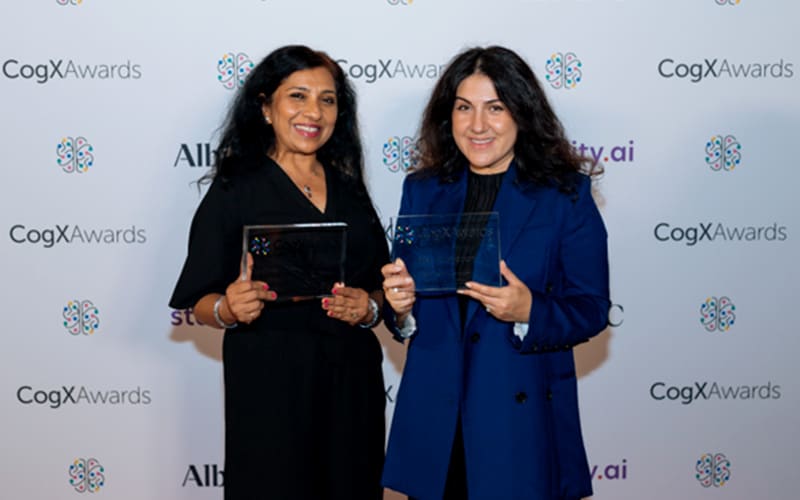 Infosys' successful run at the CogX Awards is a validation of our immense passion, unwavering dedication, and relentless efforts on the path to leverage AI while addressing complex challenges for positive transformation. The CogX Awards 2023, in its seventh year, had an esteemed panel of industry leaders as judges. The annual awards commend the finest innovators, visionaries, and changemakers across the globe who dream of a better world for a brighter future.