Infosys as Leader in Everest Group PEAK Matrix® for GCP System Integrators 2021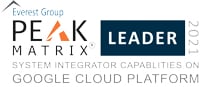 Infosys has been positioned as a Leader in the Everest Group PEAK Matrix® for Google Cloud Platform (GCP) System Integrators 2021.
With the launch of Infosys Cobalt, Infosys aims to provide blueprints to clients for launching next-generation services and co-creating solutions. Infosys Cobalt strives to help redesign enterprises from core and build cloud-first capabilities to deliver seamless experiences.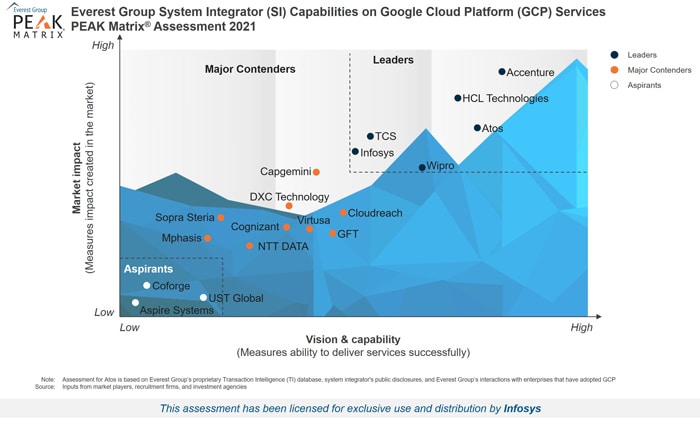 The evaluation highlights Infosys' strengths in the following areas:
Infosys has developed industry-specific solutions such as Infosys Digital Brain that caters to retail & CPG, and Infosys Media Platform that has end-to-end digital content management capabilities
Infosys has partnered with Google to develop Infosys Cortex2, a contact center solution leveraging AI and natural language processing for reimagining customer care operations
Infosys has "Google Specializations" on cloud migration and data analytics, and is a certified MSP
Infosys provides internal trainings through its LEX initiative, which is a key pillar of its reskilling initiative for GCP skills to deliver clients' expectations
Infosys has evolved its offerings and value proposition to address the post-pandemic requirements of enterprises. Specifically, its latest offering "Infosys Cobalt" aims to deliver security, innovation, and speed-to-market under a single offering, with cloud as the bedrock.