Infosys ranked #1 service provider in HFS Top 10 for Banking and Financial Services 2021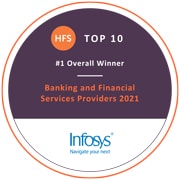 The new imperative for Banking and Financial Services (BFS) firms is a contextual transformation where digital front-ends merge with modernized core systems to drive optimal bottom-line and top-line impact aligned with actionable digital transformation. In 2021, HFS Research evaluated and compared the capabilities of the world's top Banking and Financial Services service providers.
Infosys secured the overall #1 position as part of this evaluation showcasing our expertise across Banking, Capital Markets and all other cross-functional BFS processes. We have also emerged as the top service provider under the categories of "Strategy and Vision" and "OneOffice Alignment" – HFS's vision for actionable digital transformation.
Key differentiators called out in the report:
Co-creation with key clients has helped Infosys prove out the linkage between optimization and transformation and successfully deliver both
Once proven, Infosys productizes and offers segment specific solutions to other clients
Infosys' strong leadership and balance sheet have been breeding further confidence in the brand
Infosys' localization of talent and investment in local communities pre-dated the pandemic, but it will be even more important as we emerge from the pandemic
Download a custom version of the report
"Many subsegments of the financial services sector were 100% certain they were digitally transformed pre-pandemic. It took a global crisis to lay bare the precise lack of connectivity between glossy front-end customer engagement interfaces and the myriad of aging back-office systems that actually run financial services firms. The post-pandemic imperative is rapid modernization across all BFS subsectors, with implicit cloudification and digital optimization. This is only achievable with a collaborative ecosystem approach." —Elena Christopher, SVP Research, HFS
About the "2021 HFS Top 10: Banking and Financial Services—The Best of the Best Service Providers":
The report examines the capabilities of the world's largest service providers. HFS assessed and rated the industry-specific service capabilities of the top 10 leading service providers across a defined series of execution, innovation, OneOffice alignment and voice of the customer criteria. The report highlights the overall and subcategory ratings for these best of the best participants.