Infosys in HFS Winner Circle for Capital Market Services 2022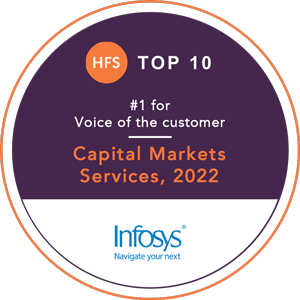 The HFS Top 10: Capital Market Services 2022 evaluation examines the capabilities of 11 of the world's largest service providers and how they are helping their clients embrace change and realize results. HFS Research assessed and rated the industry-specific service capabilities of the leading service providers across a defined series of execution, innovation, alignment with the HFS OneOffice™ model, and voice of the customer criteria.
Infosys stood out in this evaluation and has placed in the HFS Winner Circle with a #1 ranking under the Voice of Customer category. We have been recognized for helping capital markets clients optimize, transform, and innovate amid massive industry change.
Key differentiators highlighted in the report:
While Infosys brings strong domain depth in capital markets, particularly across the trade lifecycle, its core strength comes from the verticalization of its end-to-end capabilities. Everything we do horizontally is also done vertically.
This end-to-end approach plus continued strong financial stability has positioned Infosys as a viable partner for complex deals. Our retirement focus is differentiated, as is our push to the middle market, where our platform focus has a strong play.
Customers appreciate Infosys's "get it done attitude" and highlight a strong ability to articulate problems and provide effective solutions. We are routinely referred to as a "partner" by clients. Clients are equally satisfied with the provision of business and financial outcomes.