Infosys Financial Services Wins the Innovation Ecosystem HFS OneOffice™ Award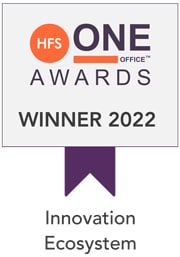 Banking and financial services (BFS) enterprises are always challenged by the ever-growing cycle of technology partners they need to find, select, implement, and manage. To mitigate this challenge, Infosys led an initiative to set up a marketplace for fintech players, incubators, and accelerators to connect to an existing wealth of markets and clients across geographies, helping us emerge as a single-point solution for rapid innovation and collaboration for BFS clients.
We are delighted to announce that this initiative, the Infosys FinTech Ecosystem, has been recognized by HFS Research, a leading global analyst firm, as the winner of the Innovation Ecosystem HFS OneOffice™ Award – a clear standout among over 200 entries.
Hridika Biswas, Senior Analyst at HFS Research said
"HFS selected Infosys as the winner in the Innovation Ecosystem category of the HFS OneOffice™ Awards because of the unique ecosystem Infosys created to address its clients' complex needs. The Infosys FinTech Ecosystem enables collaboration on joint service offerings and solutions development to drive breakthrough transformations in the Banking and Financial Services (BFS) sector. Congratulations to Infosys for this comprehensive achievement."
Read the viewpoint by HFS Research for details
About the Award:
Launched in 2021, the HFS OneOffice™ Awards is a global program that celebrates organizations, partnerships, teams, and individuals that embrace the OneOffice mindset and drive real, lasting, business change across the enterprise. The Innovation Ecosystem category recognizes a service provider that embraces collaboration across industry, technology, competitors, and other bodies to drive unmatched value for its clients.