Infosys is a Market Leader in HFS Horizons: The Best Service Providers for Retail Banks, 2023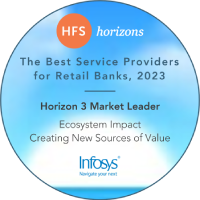 Retail banking remains the most visible segment of the global banking market with the greatest alignment to consumer behavior and sentiment. HFS Research assessed 21 service providers on how they help their retail banking clients embrace innovation and enable new forms of value for end customers.
Infosys has been recognized as a market leader in HFS Horizons Report: The Best Service Providers for Retail Banks, 2023.
Infosys' strengths as per the report:
Value proposition for retail banks: Infosys helps established global, national, and regional retail banks to engage, innovate, operate, and transform holistically through tech modernization combined with operations transformation.
Growth: Infosys shows continued strong financial growth; ongoing investment in localization in geos such as the US, Europe, Australia, Canada, the Nordics, Singapore, and Costa Rica; new and deeper relationships with partners like Stripe and Finastra; verticalized IP investment like Infosys Cobalt Financial Services Cloud; and continued industry adoption of Finacle.
Key differentiators: Infosys delivers an integrated end-to-end proposition for retail banks and all-inclusive pricing. Infosys Finacle combined with Infosys's best-of-breed partner approach offers clients a unique product option. Infosys' co-innovation approach with clients and partners yields new forms of value.
"As the top imperative for retail banks shifts from digital engagement to front-to-back modernization, banks are actively seeking end-to-end partners help them on this next wave of their transformation journeys. In our recent study "The Best Service Providers for Retail Banks, 2023", HFS sdesignated Infosys as a Horizon 3 market leader due in part to its proven ability to bring robust end-to-end, industry-specific solutions to life for retail banks. Its comprehensive approach coupled with its strong partner ecosystem helps it drive a powerful combination of tech modernization and operations transformation for its banking clients."
- Elena Christopher, Chief Research Officer, HFS Research