Digitalization and the Future of Asset Management

The global digital revolution continues to transform industries and companies are becoming increasingly savvy in gaining a competitive edge via the adoption of digital technologies. And while asset managers have generally been slower to seize this opportunity, more are starting to embrace the digital transformation. In the current landscape, many firms are traditionally more focused on cost management instead of creating value through digitalizing their operations. How can asset managers integrate new digital capabilities effectively? How will it change the way asset management is conducted and improve the client experience? What are the other opportunities for greater utilization and efficiency gains?
The Milken Institute, in collaboration with Infosys, hosted this exclusive panel discussion with distinguished speakers.
Mohit Joshi, President, Infosys Limited
Lou Maiuri, Chief Operating Officer, State Street Corporation
Madeleine Dassule, Co-Head of Technology, Wellington Management
Closing remarks
Michael Milken, Chairman, Milken Institute
Moderator
Mike Piwowar, Executive Director of the Centre for Financial Markets at the Milken Institute and former Commissioner of the United States Securities and Exchange Commission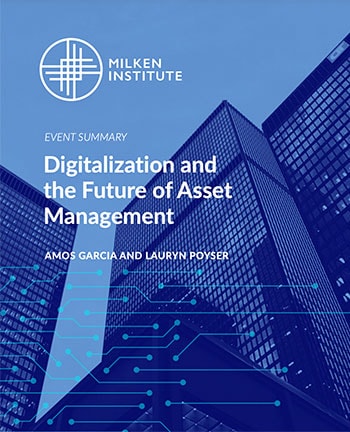 Download White Paper