Infosys Positioned as a Leader and Star Performer in the Everest Group PEAK Matrix® for Application Transformation Service Providers 2021


Everest Group positions Infosys as a 'Leader' and 'Star Performer' in the Application Transformation Services PEAK Matrix®. For the report, Everest Group examined the dynamics of the global application transformation service provider landscape and presented a detailed assessment of 29 application transformation service providers.

According to Everest Group, 'Leaders' are those that exhibited strong client orientation and have helped their clients in the transformation of complex business-critical applications to achieve faster time-to-value and enhanced user experience. Leaders also made significant investments in building IPs and partnerships to accelerate the application transformation process and deliver custom solutions to clients.
Infosys was recognized for its mature application transformation offerings and solutions, part of Infosys Cobalt. In the report, Everest Group rates Infosys highly on market adoption, innovation and investments criteria.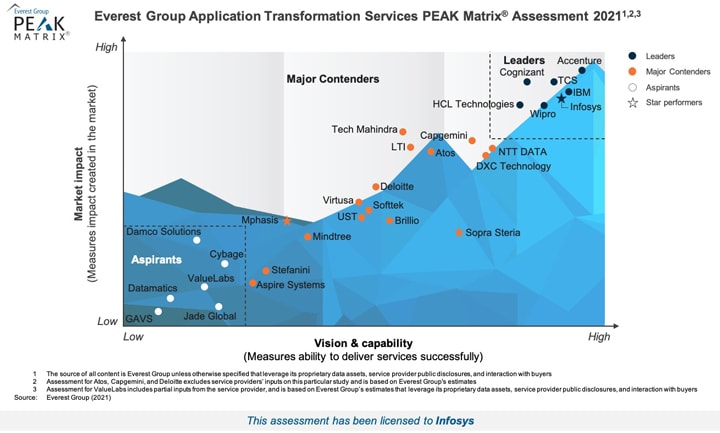 Infosys' strengths highlighted in the report:
Infosys' differentiated commercial constructs like as-a-service model, synergy linked discounts, and YoY productivity improvements that have helped secure major deal wins
Clients' perception of Infosys as a one-stop solution with a mature offering portfolio spanning the entire life cycle of transformation programs
Industry-specific solutions built through strong partner ecosystem to provide tailored solutions
Thought leadership investments and global delivery footprint across major themes such as multi-cloud adoption and vendor-agnostic solutions