Infosys Positioned as a Leader in the ISG Provider Lens™ Mainframes - Services and Solutions U.S. 2023 Report
Infosys has been rated as a Leader in the Provider Lens™ Mainframes - Services and Solutions U.S. 2023 report. For the study, ISG evaluated 56 vendors and service providers across five quadrants - Mainframe Modernization Services; Mainframe Application Modernization and Transformation Services; Mainframe as a Service (MFaaS); Mainframe Operations; and Mainframe Application Modernization Software.
The report positions Infosys as a Leader in Mainframe Modernization Services, Mainframe Application Modernization & Transformation Services and Mainframe Operations. ISG mentions that Infosys has a structured approach (A.R.T. Framework), value management methodology (Zero Disruption Modernization Framework) and focused end-to-end automation (Infosys Live Enterprise Application Modernization Platform) to deliver mainframe modernization and transformation programs.
The report also discusses how Infosys handles extensive mainframe modernizations with well-balanced onshore and offshore expertise.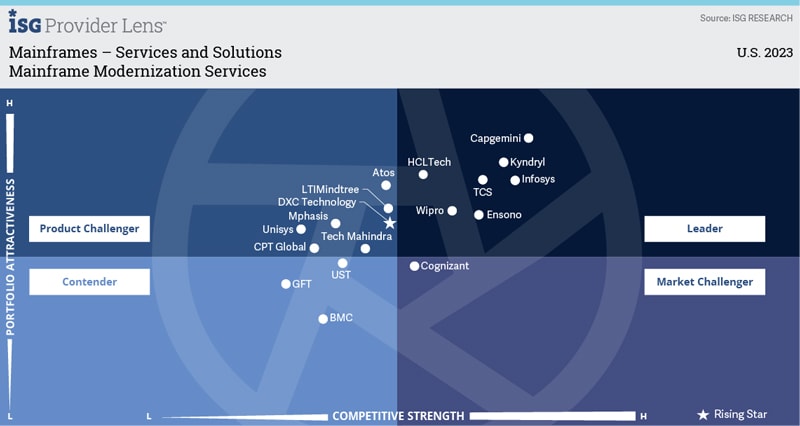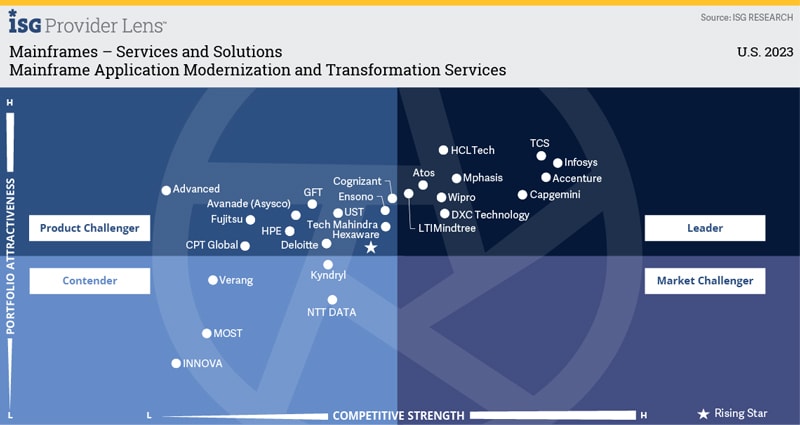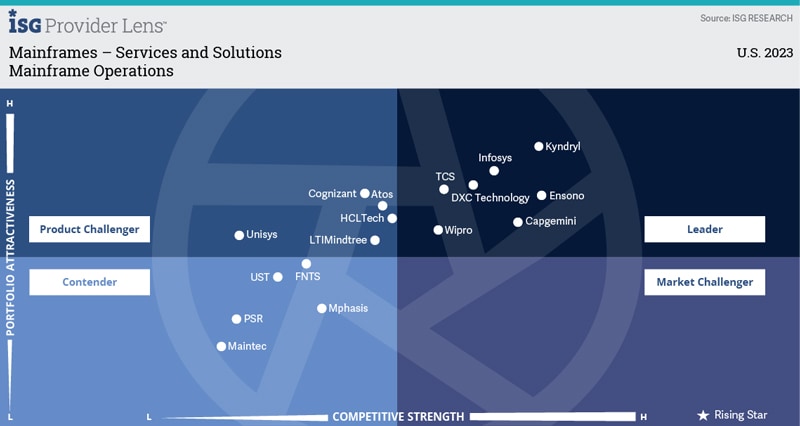 Key highlights from the report:
Methodology and Expertise:

The Accelerate-Renew-Transform (A.R.T.) framework enables Infosys to help clients reduce their TCO and enhance customer experience.
Infosys has extensive delivery expertise with over 30 years of mainframe services and 10 years of mainframe modernization experience.

Solution Accelerators:

The Infosys Live Enterprise Application Development Platform automates the migration, minimizing risk and using the best-fit solution for rehosting, refactoring and re-engineering. The Infosys project control method (Zero Disruption Modernization Approach) tracks six layers for achieving zero-disruption modernization.
Infosys uses the Infosys Live Enterprise Application Management Platform to streamline operations and site reliability engineering (SRE) techniques to drive improvements and provide clients with dashboards loaded with rich insights.
Infosys creates an environment for the coexistence of new and legacy codes and uses LegMap, a proprietary testing solution, to automate business rule extraction and compare source and target outcomes.

Skill Availability and Partnership Ecosystem:

Infosys has one of the largest pools of mainframe experts and a good balance of onshore and offshore capacity to commit and supply mainframe skills for the long term.
Top level partnerships that share best practices in co-developing solutions, accelerators, toolsets, and platforms.
Register to access the quadrant reports.
To learn more about Infosys' Mainframe Modernization Services, please click here.