Infosys Positioned as a Leader in the NelsonHall NEAT Vendor Evaluation for Blockchain Services 2021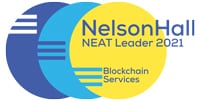 NelsonHall's 'Blockchain Services 2021' analyses the market for blockchain services in Fortune 1000 organizations. These organizations have already often used leading BPS vendors and consultancies to undertake digital transformations using blockchain solutions on minor scales. This major NelsonHall study is essential reading for CXOs looking to transform key operational processes using blockchain, with the analysis detailing what they can achieve now, what they can expect to achieve over the next few years, and detailing the capabilities of the key digital BPS and operations transformation vendors, including:
Key trends driving blockchain adoption
Buyer expectations of blockchain service offerings
What technical accelerators and business frameworks are offered by vendors to rapidly deploy blockchain-enabled solutions across industry use cases
Where vendors are focusing their roadmaps and investments to shape blockchain service offerings for the future
Challenges and success factors for blockchain service vendors.
Infosys is positioned as a Leader in the NelsonHall NEAT Evaluation for Blockchain Services 2021.
NelsonHall has identified Infosys as a Leader in the following market segments:
Telecom and Media
Manufacturing and Supply Chain
Banking
As the below chart indicates, we are ahead of all other vendors in the rating.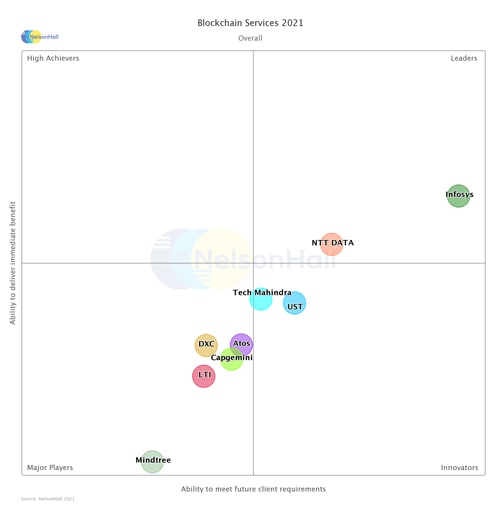 Key strengths:
Incubation-as-a-service model is appealing for organizations with defined needs
Mature blockchain presence in BFSI, public & government, retail & CPG, and telecom sectors
Breadth of pilot and POC activity across a wide variety of industries and use cases
Infosys Blockchain Testing Framework for functional and performance testing of DLT technologies
About NEAT: This NelsonHall Vendor Evaluation & Assessment Tool (NEAT) analyzes the performance of vendors offering blockchain services. The NEAT tool allows strategic sourcing managers to assess the capability of vendors across a range of criteria and business situations and identify the best performing vendors overall, and with specific capability in the banking, government, and telecoms & media sectors.