Infosys is positioned as a LEADER in the IDC MarketScape for Blockchain Services 2020 Vendor Assessment
Infosys has been positioned as a Leader in IDC MarketScape: Worldwide Blockchain Services 2020 Vendor Assessment. The IDC MarketScape offers an assessment of vendors providing professional services supporting blockchain technologies.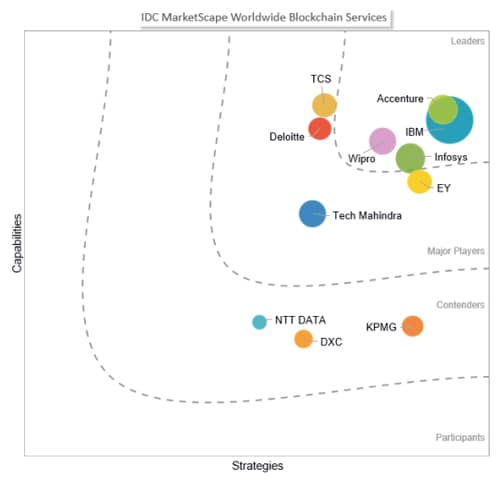 The study mentions, Infosys is driving expansion of blockchain-powered networks through wider enterprise adoption across various industries and their extensive experience in setting up live networks (across India, Middle East, Europe, Australia, SEA) uniquely positions them to help navigate clients' journey to unlock business value from blockchain.
Infosys' key strengths include:
Infosys is investing heavily in ready-to-onboard business networks for government services, healthcare, supply chain, insurance, and pharma by building industry-specific solutions and DLT/hardware partnerships.
Infosys has innovative and flexible pricing, business, and revenue models available to clients that help justify costs as well as encourage adoption and development of the technology
Implementations run from early pilots and proofs of concept to help companies explore the technology all the way through production with an eye toward helping customers not only learn the technology but also how to measure its success
SOURCE: IDC MarketScape: Worldwide Blockchain Services 2020 Vendor Assessment", Doc#US46393920, June 2020
IDC MarketScape vendor analysis model is designed to provide an overview of the competitive fitness of ICT suppliers in a given market. The research methodology utilizes a rigorous scoring methodology based on both qualitative and quantitative criteria that results in a single graphical illustration of each vendor's position within a given market. The Capabilities score measures vendor product, go-to-market and business execution in the short-term. The Strategy score measures alignment of vendor strategies with customer requirements in a 3-5-year timeframe. Vendor market share is represented by the size of the circles. Vendor year-over-year growth rate relative to the given market is indicated by a plus, neutral or minus next to the vendor name.