Digital Process Automation Overview
Enterprises today need to be resilient, to thrive and grow, to innovate and to become adaptive LIVE ENTERPRISES. Organizations are looking for flexible and fluid strategies to rapidly create new experiences that unleash hyper productivity. Infosys Fluid Digital Process Automation (DPA) is a strategy to combine synergistic digital capabilities to deliver perceptive experiences and build responsive business value chains.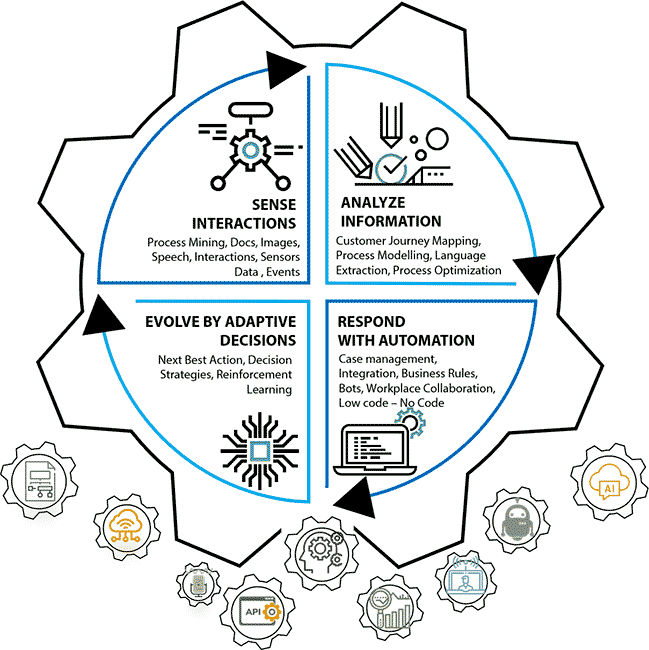 GETTING DIGITAL: THE WAY CUSTOMERS WANT WITH FLUID DPA
An important imperative for businesses today is to be resilient, to thrive and grow, to innovate and to become adaptive LIVE ENTERPISES. As a result, the need for transformation is paramount and its implied urgency is the survival necessity. To cater to this disruption even the most established organizations can make the seemingly natural but unrewarding choice of responding with only technology.
This realization has made Infosys create a strategic transformation approach that amplifies the core and delivers new capabilities that extends value beyond the transformation. Our Fluid DPA provides the approach, mindset and platform services that help our clients continuously respond and grow with data-driven decisions and cognitive actions.
Fluid DPA gives the advantage to not just respond to disruptions but also
Adapt to and Lead Environment changes
Rapidly and flexibly Create new experiences for customers
Unleash Hyper Productivity
New product possibilities to stay ahead of competitive disruption
Reskilling talent for the jobs of today and tomorrow
Our breadth of services to deliver Fluid DPA includes an array of capabilities, IPs and Platforms that work together as elegantly as Lego blocks –
SENSE (that combines competences such as Process Mining, sensors, OCR, Stream and Machine/Human signals processing)
ANALYZE (Competencies include Process Modelling, process Optimization techniques, Document Analysis, NLP extraction)
RESPOND (Low code/No code capabilities such as Case Management, Automation Bots, API and Integration, Business Rules Management, Data virtualization and DX APIs)
EVOLVE (where we leverage Next Best Action, Reinforcement Learning, Machine Learning and Decision Strategies).
Fluid DPA makes enterprises adaptable, flexible and interoperable, powering them towards a cloud first economy. Enterprises can now leverage the full potential of cloud ecosystem with the Infosys Fluid DPA approach, together with its set of services, solutions and platforms, part of Infosys Cobalt, to increase business value and speed to market.
Fluid DPA's thriving community of business and technology innovators can work with Customers to steer platform changes that maximize experience, efficiency and empowerment.
Connect with us to know more.