Infosys recognized as a 'Leader' in IDC's MarketScape Worldwide Microsoft Implementation Services 2019 Vendor Assessment report
Infosys has been positioned as a 'Leader' in the IDC MarketScape report "Worldwide Microsoft Implementation Services 2019 Vendor Assessment". This is a testimony to our vision of being one of the most trusted Microsoft implementation services providers, helping our clients explore new business avenues by transforming them digitally.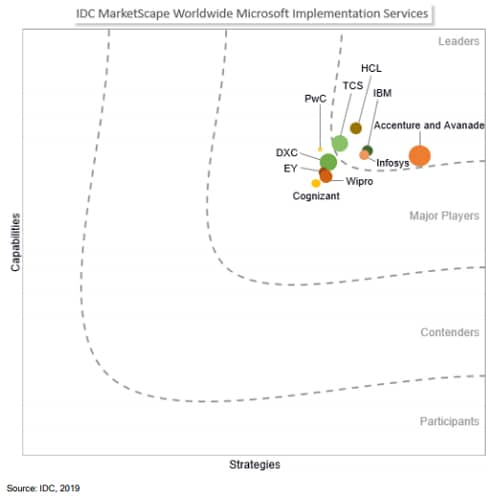 SOURCE: IDC MarketScape: Worldwide Microsoft Implementation Services 2019 Vendor Assessment, by Ali Zaidi, May 2019, IDC #US45034818
This IDC study represents a vendor assessment of the Microsoft implementation services market through the IDC MarketScape model. This assessment discusses both quantitative and qualitative characteristics that explain success in the Microsoft implementation services market. The report covers a variety of vendors participating in the Microsoft implementation services space. The evaluation is based on a comprehensive and rigorous framework that assesses vendors relative to the criteria and to one another, and highlights the factors expected to be the most influential for success in the market in both short-term and long-term.
Key Highlights
IDC views Infosys highly in terms of its innovation/R&D pace and productivity and its delivery model strategy
Buyers rate Infosys highly for delivering the right value for the fee it charges and for its ability to manage vendor staff turnover during a project's lifetime
Infosys' focus on Microsoft services helps customers renew their core investment and embrace new business opportunities, utilizing Microsoft-based services offerings backed by Infosys cloud solutions and AI-based automation
Some of the key highlights of Infosys differentiation that has helped in this recognition are:
Infosys assists business users with industry solutions by leveraging Dynamics and Microsoft cloud services
Infosys helps its clients update their legacy infrastructure while creating new technologies
Infosys converts data into actionable insights and automates processes for its customers
Infosys supports business processes in the hybrid environment that consist of digital and physical entities utilizing solutions such as IoT, blockchain, and AR/VR
Infosys transforms IT operations through a mix of private, public, and hybrid cloud solutions
Please note: IDC MarketScape vendor analysis model is designed to provide an overview of the competitive fitness of ICT suppliers in a given market. The research methodology utilizes a rigorous scoring methodology based on both qualitative and quantitative criteria that results in a single graphical illustration of each vendor's position within a given market. The capabilities score measures vendor product, go-to-market, and business execution in the short-term. The strategy score measures alignment of vendor strategies with customer requirements in a three to five-year timeframe. Vendor market share is represented by the size of the icons.