The theme for International Women's Day (IWD) 2021 is #ChoosetoChallenge. Choose to Challenge is envisaged as an inclusive campaign that calls attention to preferences, behavior and action that we demonstrate in the various situations and contexts that we navigate every day. It invites a deeper reflection into the 'whys' of action or inaction, as the case may be, and urges us to consider a different approach. An approach that will challenge the status quo 'positively' thereby facilitating an unravelling of intent, behavior and action in a way that will inform and guide our everyday as we navigate a larger 'purpose' with 'conscience
On the occasion of International Women's Day Bangalore DC conducted session on the subject of 'bias' and its impact on the decisions we make and initiated series on "Unsung Sheroes and Unheard Stories" inviting 5 inspirational stories and women from different walks of life.
Chandigarh DC organized a speech competition on the topic of "Men as champions of Women"
Pune DC conducted several activities including but not limited to Panel Discussion on "My Career My Aspiration", session on "Challenges while WFH & how to address it!", Launched Story Series "Conversations - How they do it?" featuring personal experience and thought sharing by women leaders and Experience sharing session by women leaders who #Choose to Challenge from across the globe. They also organized a Leadership Townhall with Pravin V. Kulkarni (VP & Delivery Head – SAP, and DC Head - Pune) and Reward & Recognition for Women Achievers @Pune DC..
Hyderabad SEZ DC organized sessions on Health & wellness, Financial independence, Technology enablement, Personality development, gender stereotype and felicitated woman achievers.
Jaipur DC conducted numerous events like "Challenge the negatives", "Blogathon", online quizzes, fitness challenges and recognized their women employees by appreciation and rewards.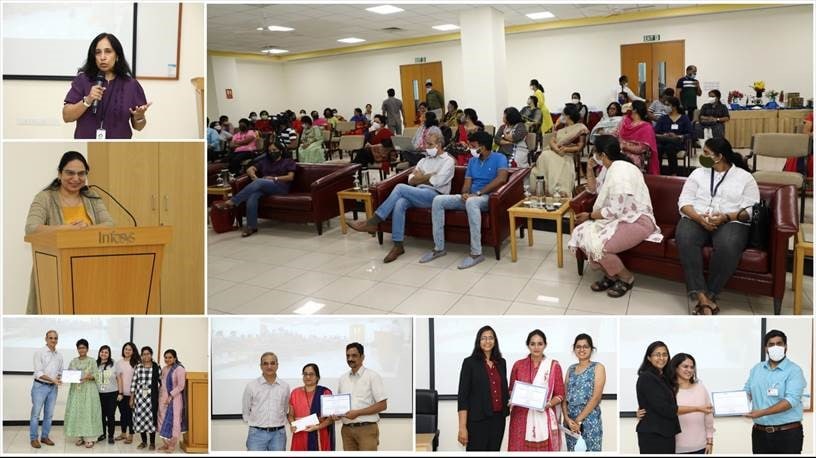 EAS unit hosted few initiatives around the theme of #choosetochallenge. The ideathon was organized under the 3 themes namely "Strengthening women presence at leadership (and all levels!)", "Building success stories for Women In Tech in today's hybrid world?" and "Keeping talented women on the road to success". Other programs that the unit organized were "Keep in Touch", "Power of Self", "Leap talks" The unit invited Mercy Ramya, IAS officer, Tamil Nadu, Lalitha Mahadevan, solo travel enthusiast and Tedx speaker and Ilakiya Victoria, IAS officer, Tamil Nadu.
RCLADM invited Kiran Dembla, an who shared her journey from being a homemaker to a body builder and a fitness trainer to celebrities. The unit also appreciated their women colleagues during this week of International Women's Day using Gracias platform. The unit recognized 64 Women Achievers in the following categories:

Back with a Bang Award (For women returning from ML and taking up the charge instantly)
Bunsen Burner Award (For the Hottest Ideas)
Running with Bulls Award (For Biggest Risk taker)
Flying High Award (For always keeping positive come what may)

DNA launched DNA women achiever program designed specifically for Senior JL6 Women who are aspiring to move to JL7 roles. The unit also organized Health sessions and Fitness challenges alongwith Choose to challenge pose contest.
DX & MSP organized an inhouse event to engage with women employees, session on "When women lead", and an exclusive coaching sessions for women on the topics of improving self-awareness Brain Science expertise/knowledge, Alter ego, Equal choices, Equal Future in a STEM lead world.
ENG organized numerous expert talks on technology/ domain. Program management and online quizzes. The unit also had sessions on health and dedicated initiatives for multi country inclusivity.
STG invited Ms. Shalini Warrier (Executive Director, COO and Business Head-Retail, Federal bank) to speak on the aspects of women in leadership and how challenges are opportunities knocking our door. They also invited Infosys leaders to speak on superpowers women possess to face challenges in their career, personal care, work life balance etc.
Infosys Consulting too celebrated IWD with IC Leadership and conducted sessions on "Strength finder training" and "Create habits which sustain change" and invited Ms Shikha- Founder, Be Artsy's to hear her journey to success.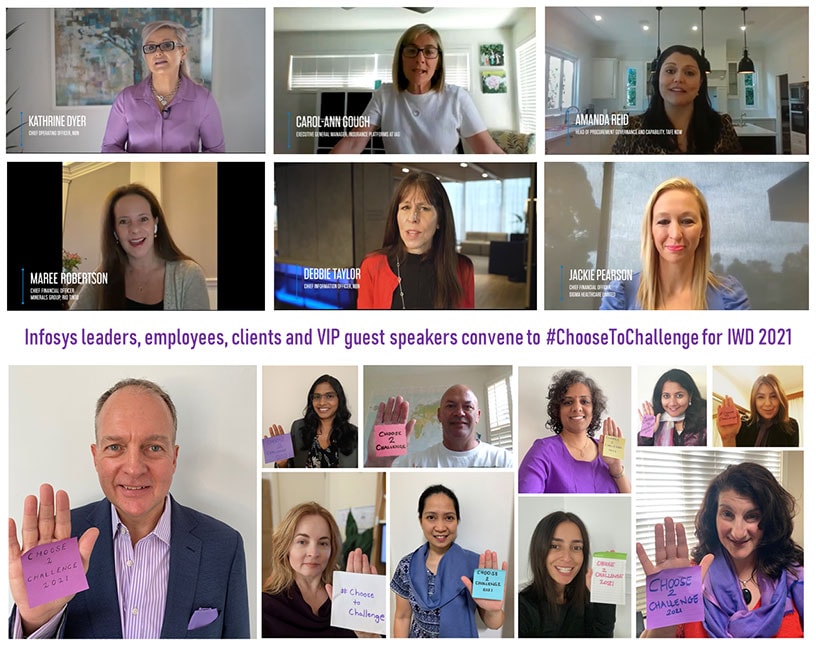 In its 3rd consecutive year, IWD celebrations at Continent Europe witnessed a powerhouse of distinguished speakers across industries from our client organizations and Infosys leadership. The event was organized over Webex and witnessed participation from 120+ employees across Europe.
Our event was careful planned around the theme of #ChooseToChallenge an witnessed some compelling discussions and thought provoking conversations. Andrea Hendrickx, VP and Country Head – Germany delivered an energetic opening address which was followed by the key note speak from Caroline Marchmont, Director R&D Execution, Ansaldo Energeia. Next was Client Speak by Tia Jähi, Head, IT Common Capabilities & Mgt & Collaboration Solutions @ KONE. This was followed by an interesting panel discussion that witnessed participation from Monique Hoeben – M.D, Head Global Markets Strategy & Business Dev, ABN AMRO, Nina Junehed - Director of IT Merchandising & Finance, ICA Gruppen, Mariane Heidingsfelder - Vice President Technology, Pandora and Bhavna Rai - Executive Director, UBS. The panel discussion was moderated by none other than Lilly Vasanthini, AVP, Delivery Head – Eastern Europe, Nordics and Switzerland. The event concluded with the Leader's Speak by Gopi KK, SVP, Global Head Oracle services & Blockchain, Europe Head. The FLAIR award winners for the continent Europe team were announced. The FLAIR awards is a recognition program is aimed to encourage and empower women @ Infosys.
The event was organized by Shaaron Battiwala, Sonam Somaiya, Roselle Buenaflor under the guidance of Satish Kannan.
China invited women leaders from Infosys china clientele to share their success story and insights on how they challenged the stereotypes with the below mentioned speakers:
Selina Yuan, President-International Business, Alibaba Cloud Intelligence
Selena Zhuang, IT Head, Kone China
Karen Wang, General Manager, Veeva China
As a celebration party Fun Games, Cake and Snacks, Lucky Draw & DIY activities was organized for all women employees across DCs. The team also provided Secret Garden Card and colorful pencils to participants. When ladies submit the colored Secret Garden card, they will receive one little gift and gave away a small customized gift was shared with all the women employees on 8-Mar-21 when they entered the office campus wishing them Happy Women's Day.
As a regulatory requirement a half day holiday was given to all Infosys China women employees.
The UK team celebrates International Women's Day annually as a flagship event to foster learning, enthusiasm, wonder and to provoke dialogues around gender diversity in the region.
This year, we celebrated International Women's Day 2021 on March 8, 2021 in a virtual avatar.
10 external guest speakers from numerous companies like Deutsche Bank, Northern Trust Corporation, Bank of America, Danske Bank and many more! Multiple Infosys speakers like Nazia Jabeen, Karmesh Vaswani, Dena Tahmasebi, Ajay Vij, Janneke Dobbinga and Shipra Gill were invited too.