The Infosys Career Mosaic – For a career that never stands still
Professional growth is accorded as a top employee need at Infosys, with 51% of our surveyed entry-level employees ranking it as their primary aspiration.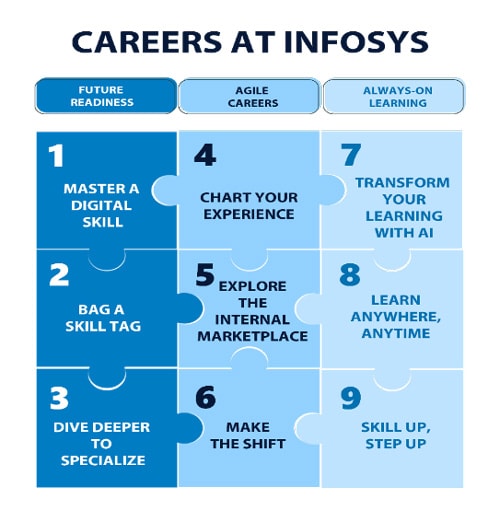 In early 2019, we articulated 'career' as one of the three main pillars of our Employer Value Proposition. Over the course of 2019 and 2020, we have made efforts to position professional growth as a defining experience, in place of the traditional career curve. We brought together nine principles in the shape of a blueprint, known as the Career Mosaic, which stitches together our promise on careers to employees. These principles guide the design of our numerous career offerings, tools and avenues that align to three broad philosophies of:
Future-readiness
Agile careers
Always-on learning
We consider individual aspirations with hyper-personalization ensuring that every employee can build the career of their choice.
Master a digital skill
Employees can prepare for careers in new and emerging technologies by aspiring and completing structured learning paths in skills they are passionate about.
Bag a skill tag
Employees with a combination of newly learned skills and required experience are tagged as technology professionals who earn incentives and gain higher visibility with their unique skill identity.
Dive deeper to specialize
Specialization as power programmers, moves employees to dive deep into work in the newest technologies. For managers who gain specialist tags, specialization in digital enables them to lead digital transformation for our clients.
Chart your experience
Employees can change projects regularly based on completion of minimum tenure and re-skilling. Their move to new opportunities helps them immediately apply newly learned skills.
Explore the internal marketplace
The internal marketplace lists vacancies that are offered to employees first before external hires. Additionally, project demands and short-term internships enable employees to immediately render their newly acquired skills.
Make the shift
Bridge programs offer a structured blend of training and internship for employees who aspire to cross over to a different field of work.
Transform your learning with AI
Career planning is hyper-personalized. The Learning and Career app and the career advisory bot (CARA) on the digital career platform (Compass) send personalized suggestions to every employee on learning, opportunities, networking and actions to move their careers forward.
Learn anywhere, anytime
Digital tools for learning and careers enable non-stop, bite-sized and mobile learning to continuously broaden and deepen skills. These include Learning and Career on Infy Me, Lex for all employees and Manager Quotient (MaQ) for managers.
Skill up, step up
Frameworks to gauge skill proficiency and digital exposure in skills call out the skills quotient for every employee. A higher skills quotient attracts more rewards. High-performing employees in early career stages benefit from fast-tracked careers and are offered differentiated career experiences.
Newly launched in May 2020
Career planning on the go
Learning and Career is an intelligent and personalized app that brings together all career avenues in one place to enable career development anytime, anywhere. Powered by the Digital Brain, the app allows employees to skill up, explore opportunities and increase skill proficiency while on the move.
Forum for a career that never stands still
Careers with CARA is a live, weekly, virtual career forum that brings together top leaders and industry experts with a career advisory anchor. We feature career success stories from employees across Infosys.
With non-linear careers, level-agnostic digital career paths, the internal talent marketplace, and jobs designed around capabilities rather than tenure, careers at Infosys are evolving to be future ready, flexible and full of learning. This helps keep employees ahead of every possible as well as any unprecedented disruption.