Infosys recognized as a 'LEADER - Mortgage and Lending Services' in the NelsonHall NEAT 2020
Infosys emerges a Leader in the NelsonHall Mortgage & Loan Services NEAT 2020. This reflects Infosys' overall ability to meet future client requirements as well as delivering immediate benefits to its mortgage & loan services clients. We have been able to achieve this milestone because of our large client base, diverse ecosystem of Fintech product vendors, deep knowledge of core banking processes, compliant systems, efficient operations and mortgage licenses in 50 states.
Our ability to develop and deploy a strong set of digital capabilities for our clients has helped us to be positioned among leaders as shown in the graph below: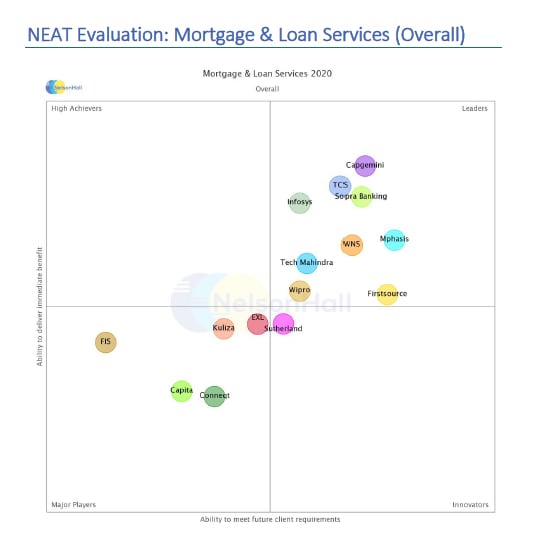 Key differentiators offered by Infosys:
Enhancing customer journey using its strong digital lending capabilities.
Enhancing efficiency and consolidate platforms by automating operations.
Compliant systems and operations. Also, a leverage of 50 state mortgage licenses.
Immense domain knowledge and delivery of services across the globe.