Infosys recognized as a Leader in the Everest Group PEAK Matrix® for Cloud-native Application Development Services
Infosys has been recognized as a Leader in the Everest Group Cloud-native Application Development Services PEAK Matrix® 2020. Everest Group assessed 21 cloud-native service providers evaluating them on their market impact and vision & capability for this report.
Report highlights Infosys' ability to help organizations augment their digital capabilities, modernize their core systems, and deliver design-led experiences in an agile manner. Backed by deep domain expertise and experience, Infosys leverages platforms such as Infosys PolyCloud Platform and Infosys Cloud Native Development Platform, part of Infosys Cobalt, to simplify and accelerate cloud native journey for its clients.
Some of the key Infosys' strengths called out in the report are:
Design thinking approach and joint workshops with clients that have helped build and demonstrate POCs, thus, fostering client confidence
Mature set of tools and accelerators that enable predictability and consistency in its cloud-native engagements
Strong pool of domain experts across industry verticals, which enables it to contextualize cloud-native solutions with a better understanding of clients' businesses
Infosys' upskilling initiatives that help provide consistent and quality delivery teams in cloud-native engagements
Extensive partnership with ISVs and cloud service providers to develop joint solutions and enhanced service offerings for clients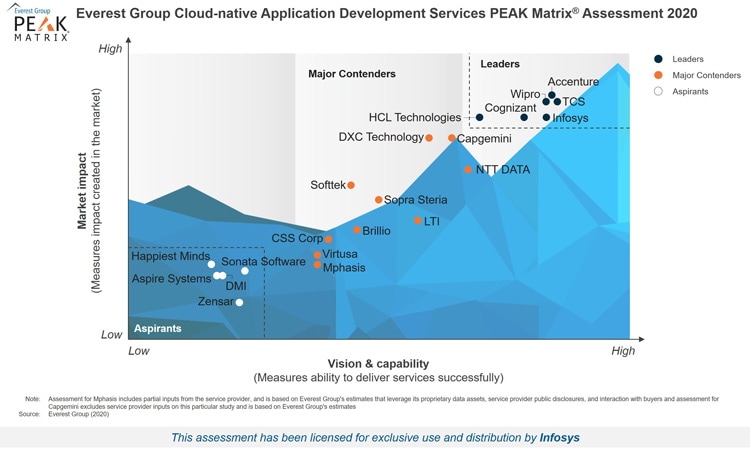 About Everest Group's PEAK Matrix®
Everest Group's PEAK Matrix assessments provide the analysis and insights enterprises need to make critical selection decisions about global services providers, locations, and products and solutions. Likewise, providers of these services, products, and solutions, look to the PEAK Matrix to gauge and calibrate their offerings against their peers.