Forrester positions Infosys as a Leader in the first ever Forrester Wave™: Digital Process Automation Service Providers, Q3 2018
Forrester has positioned Infosys as a 'Leader' in the first ever Forrester Wave on Digital Process Automation (DPA), BPM Service Providers by Rob Koplowitz, VP and Principal Analyst. Infosys is #2 in the Current Offering category. This is first of its kind Wave on DPA, earlier one being on BPM service providers.
What is Forrester's Digital Process Automation Wave all about?
The aim of Forrester's Digital Process Automation Wave was to
Identify the functionality that DPA service providers should provide
Identify the most significant DPA service providers today
Assess the strengths and weaknesses of these leading DPA service providers
In their 19-criteria evaluation of digital process automation (DPA) service providers, they identified the 11 most significant ones — Accenture, BP3, Cognizant, HCL, Incessant Technologies, Infosys, Perficient, Persistent Systems, Princeton Blue, Virtusa, and Wipro — and researched, analyzed, and scored them. This report shows how each provider measures up and helps application development professionals select the right provider for their needs.
Forrester's research uncovered a market in which Accenture, Infosys, Wipro, BP3 and Cognizant are Leaders; Princeton Blue, Virtusa, Persistent Systems, HCL, Perficient, and Incessant Technologies are Strong Performers.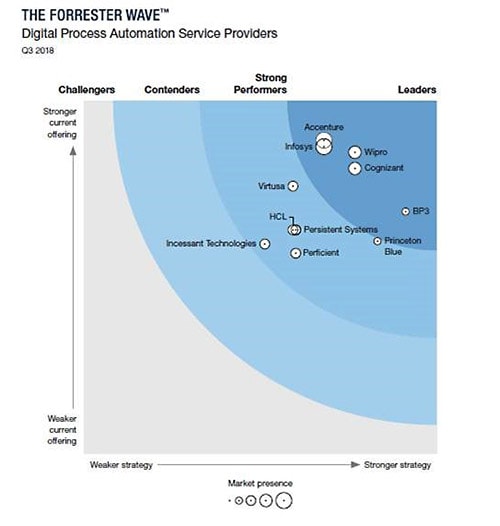 Strategy, Design, And Scale Are Key Differentiators
As existing DPA delivery techniques become outdated and less effective, strategy consulting, change management, and customer experience capabilities will dictate which providers will lead the pack. Vendors that can provide these capabilities position themselves to successfully deliver DPA in service of digital transformation to their customers.
How do we stand vis a vis competition?
"Infosys excels in DPA delivery, while looking to become more strategic" – Forrester Wave™: Digital Process Automation Service Providers, Q3 2018
It maintains a large number of process design studios and labs that serve numerous clients across an array of industries.
Infosys also has delved deeply into software development; for example, its Nia artificial intelligence (AI) offering is well suited to supporting process initiatives, and it has made deep investments in process-specific IP.
Compared with customers of other vendors, its reference customers were reasonably likely to use the firm as a strategic partner; the case studies Infosys provided supported this.
Evaluation Summary
The Forrester Wave evaluation highlights the role of service providers in elevating process automation initiatives from tactical, cost-saving efforts to critical components of a digital transformation strategy.
Leaders in this Forrester Wave offered strength across strategy, design, technology, and change management
Many of the Strong Performers have embraced partnerships with best-of-breed-service providers to create a complete offering and may represent a better option for some organizations