Infosys surfs the Wave and is positioned as a Leader in The Forrester Wave™: Digital Process Automation Service Providers, Q3 2020
Forrester has positioned Infosys as a 'Leader' in the 'The Forrester Wave™: Digital Process Automation Service Providers, Q3 2020' by Rob Koplowitz, Vice President and Principal Analyst, and John Bratincevic, Senior Analyst, Forrester Research.
What is Forrester's Digital Process Automation Wave all about?
The aim of Forrester's Digital Process Automation Wave was to:
Identify the functionality that DPA service providers should provide
Identify the most significant DPA service providers today
Assess the strengths and weaknesses of these top DPA service providers
Why Read This Report
In our 22-criterion evaluation of digital process automation (DPA) service providers, Forrester identified the 13 most significant ones — Accenture, BP3, Coforge (formerly Incessant Technologies), Cognizant, EPAM, HCL Technologies, Infosys, KPMG, Perficient, Persistent, Princeton Blue, Virtusa, and Wipro — and researched, analyzed, and scored them. This report shows how each provider measures up and helps application development and delivery (AD&D) professionals select the right one for their needs.
Key Takeaways
Infosys, Virtusa, And KPMG Lead the Pack Forrester's research uncovered a market in which Infosys, Virtusa, KPMG, Cognizant, BP3, and Wipro are Leaders; HCL Technologies, Coforge, Accenture, Princeton Blue, and Persistent are Strong Performers; and Perficient and EPAM are Contenders.
Strategy, Process Discovery/Analysis, And Citizen Dev Support Were Key Differentiators
As the scale and complexity of process automation needs increase, organizations need support from service providers. Vendors that can provide strategic consulting and process discovery and support citizen-led application development will position themselves to successfully deliver process automation to their customers.
Evaluation Summary
The Forrester Wave™ evaluation highlights Leaders, Strong Performers, Contenders, and Challengers. It's an assessment of the top vendors in the market and does not represent the entire vendor landscape.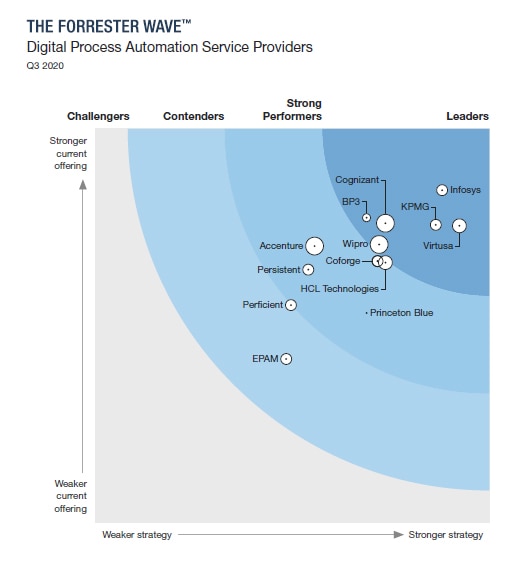 Infosys leads by investing heavily in the future of DPA. Infosys has a long history in process automation and a deep, impressive résumé in executing large and sophisticated projects. Infosys differentiates through its view on the future of DPA with significant investments to drive that vision. Infosys scored maximum score(5/5) in 4 out of 6 parameters in Strategy Infosys executes DPA projects primarily in North America, Europe, and Asia. While strong in strategy consulting, reference clients indicated that strategy work was in the context of project work rather than at the executive level leading to technology change.
Infosys excels in areas related to wide technology deployment. Process discovery, modeling, and documentation are all strengths — with extensive partnerships to match. Its work enabling citizen developers is also industry-leading, with investments in unique IP to ease the development experience on DPA platforms and provide in-context feedback through virtual coaches. Infosys's customer experience methodology is also very mature, and reference client feedback indicated strong customer experience results. Infosys is a good choice when you have a wide range of sophisticated DPA needs that require deep technical and process expertise.
Related Reading