Infosys Recognized as a Leader in IDC MarketScape for Worldwide SAP Implementation Services 2022
Infosys has been positioned as a Leader in the IDC MarketScape for Worldwide SAP Implementation Services 2022 Vendor Assessment.
This IDC MarketScape covers a variety of vendors participating in the SAP implementation services space. The evaluation is based on a comprehensive and rigorous framework that assesses vendors relative to the criteria and to one another and highlights the factors expected to be the most influential for success in the market in both the short term and the long term.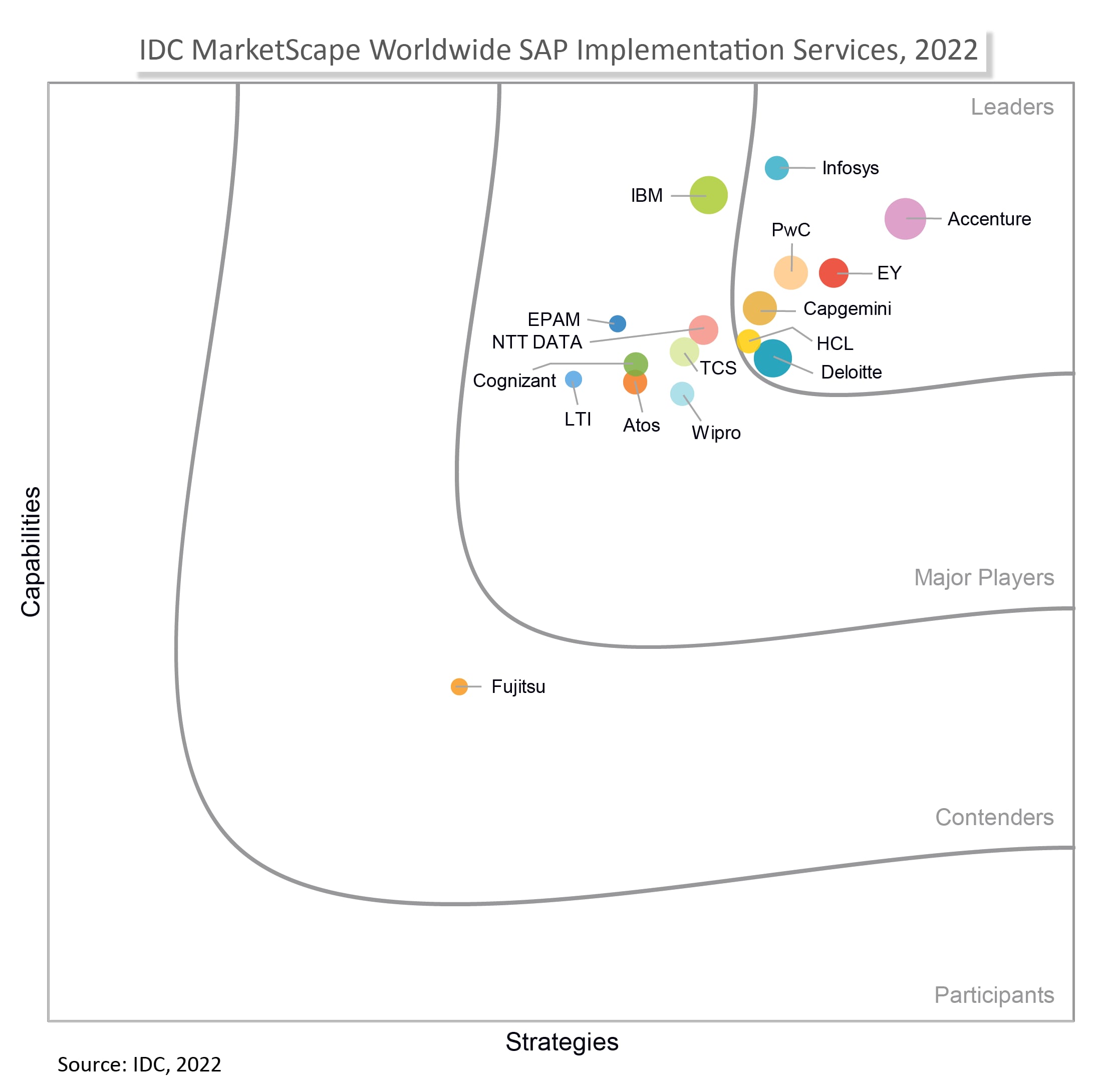 IDC MarketScape vendor analysis model is designed to provide an overview of the competitive fitness of ICT suppliers in a given market. The research methodology utilizes a rigorous scoring methodology based on both qualitative and quantitative criteria that results in a single graphical illustration of each vendor's position within a given market. The Capabilities score measures vendor product, go-to-market and business execution in the short-term. The Strategy score measures alignment of vendor strategies with customer requirements in a 3-5-year timeframe. Vendor market share is represented by the size of the icons. IDC MarketScape: Worldwide SAP Implementation Services 2022 Vendor Assessment by Ali Zaidi, June 2022, IDC #US48395822
Infosys leverages its robust set of methodologies, SAP certified tools and accelerators and comprehensive portfolio of Industry Cloud solutions, part of Infosys Cobalt to help enterprises reduce complexity and accelerate value realization.
According to the IDC MarketScape, Infosys uses its partnerships with SAP as well as all hyperscalers and other technology firms to help customers accelerate cloud adoption and digital transformation. It also provides integrated SAP services for organizational change management, SAP-enabled business transformation, business value realization/value governance, and program management.
Key Strengths:
Infosys achieved a strong buyers rate for its ability to optimize the ratio of onshore-offshore efforts on a project and for the value it provides for the fee charged. Similarly, IDC view Infosys highly for its innovation/R&D strategy and its go-to-market strategy with SAP alliance ecosystem partners.
Read the excerpt for more details and to know more about Infosys SAP Services.