Infosys Ranked #1 for Voice of Customer and #5 in HFS Top 10 SAP S/4HANA Services, 2022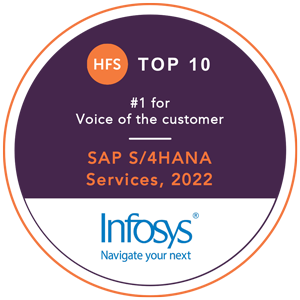 The HFS Top 10: SAP S/4HANA Services, 2022 report is a comprehensive study assessing service providers' ability to consult, migrate, implement, and manage the SAP S/4HANA business suite across industries. HFS assessed the completeness and abilities of 11 service providers over parameters HFS defined: innovation, execution, voice of the customer, and HFS OneOffice™ alignment.
Clients are looking for service providers delivering process innovation, data standardization, industry solutions, functional business expertise, change management support, and, more importantly, an ability to deliver on time. Infosys has been ranked #1 for Voice of Customer.
Infosys has overall ranked #5 and has been recognized for its strategic partnership approach with strong talent, tools, and industry expertise. Infosys has a rich SAP S/4HANA delivery experience and support various SAP S/4HANA greenfield, brownfield, and hybrid implementations and AMS projects. Infosys has been steadily investing in technology solutions through SAP S/4HANA acquisitions and partnerships.  Infosys Catalyst for SAP S/4HANA, part of Infosys Cobalt is a pre-configured industry solution that helps reduce implementation time and cost and SAP certified tools such as S/4Assist tool and Infosys HANA Code Migration and Optimization (CMO) tool provide a phased approach to the SAP S/4HANA journey.
"Infosys is a strong player in the competitive SAP S/4HANA services space with a multitude of capabilities. The firm has a comprehensive talent development program and account management abilities and leverages its assets rich set of IPs and tools under Cobalt. Customers of Infosys called out its flexibilities and talents, which made it secure a top spot in the voice of the customer category. The firm consistently invests in talents, assets, and SAP partnerships and their efforts are visible in the market. "– Don Ryan, Chief Strategy Officer, HFS