Infosys recognized as a 'Leader' in NelsonHall's SAP HANA and S/4HANA services report
NelsonHall recently released its NEAT (NelsonHall Vendor Evaluation and Assessment) report on SAP HANA and S/4HANA Services. The report places Infosys – an SAP Global Services and S/4HANA Value Assurance Partner – as a 'Leader' in this space.
The report assessed 15 vendors on their ability to deliver immediate benefit to buy-side organizations, meet client future requirements and guide clients on innovation journeys over the lifetime of their next contract. Each service provider was evaluated for their SAP HANA and S/4HANA services offerings and capabilities.
The scope of the report involved:
Analysis of the company's offerings and key service components
Revenue estimates
Identification of the company's strategy, emphasis and new developments
Analysis of the profile of the company's customer base including their targeting strategy and examples of current contracts
Analysis of the company's strengths, weaknesses and outlook
Infosys scored highly for its 'ability to deliver immediate benefit' in the overall SAP HANA and S/4HANA services. It also scored distinctly for SAP S/4HANA services and SAP HANA services focus.
The report recognized Infosys for its consulting capabilities to develop a plan for migration and support clients with multiple adoption paths. It also acknowledged key offerings by Infosys such as consulting services, migration and implementation services, and landscape transformation services.
David McIntire, IT Services Research Director with NelsonHall, said: "Infosys is well positioned to support client S/4HANA journeys through its investments in re-skilling its SAP workforce and proprietary offerings such as S/4Assist, CMO, Catalyst and Intelligent Enterprise".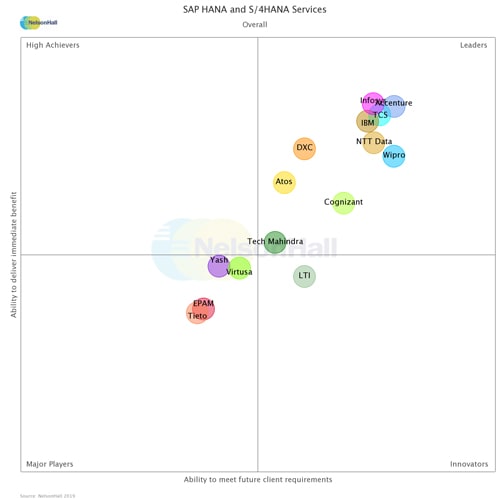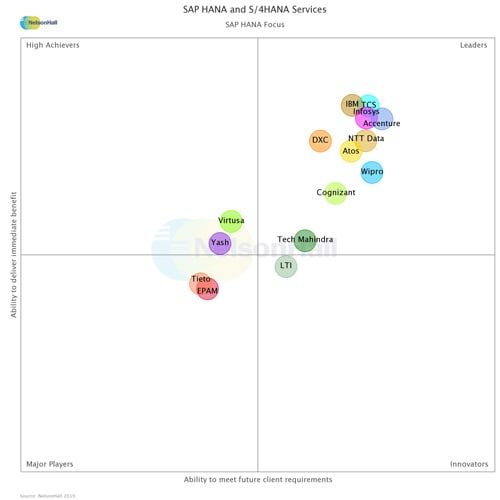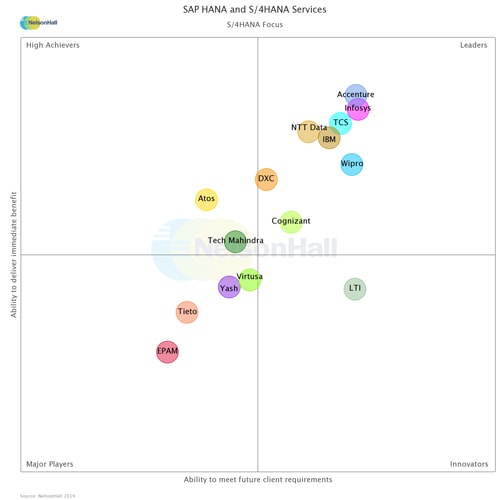 NelsonHall NEAT tool for SAP HANA and S/4HANA Services, Feb 12, 2019, David McIntire
Click here to read the press note
Related reading
Infosys Catalyst for SAP S/4HANA
Transform to a shared services model for finance with SAP S/4HANA Central Finance
Infosys Catalyst for SAP S/4HANA – Pre-configured solution for chemicals industry
Infosys Catalyst for SAP S/4HANA – Pre-configured solution for oilfield services firms
Infosys Catalyst for SAP S/4HANA – Pre-configured solution for CPG firms
Infosys Catalyst for SAP S/4HANA – Pre-configured solution for Hi-Tech firms